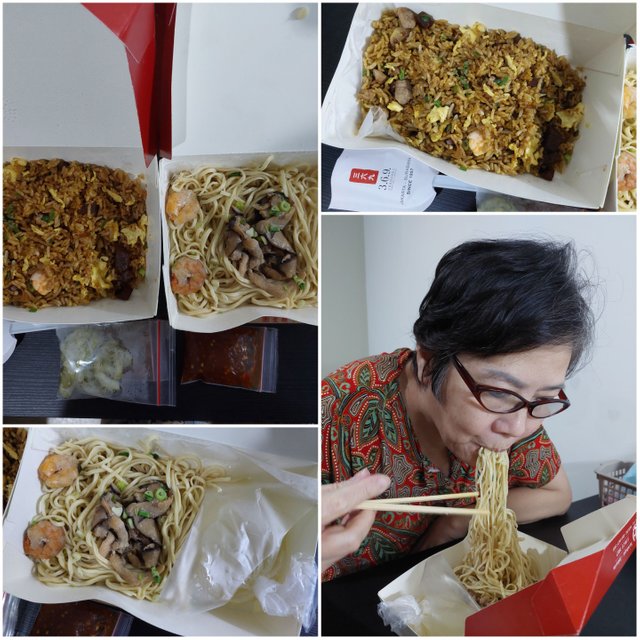 Hello, friends especially foodies!
Yesterday was 7.7, there were some online promotions in my country. The promotion also includes the food promotion in a transportation application. So mom and I didn't want to lose opportunity to use the promotion. We ordered our dinner from a famous Chinese food restaurant which had quite expensive price, so it would be more affordable. Look mom ordered noodle while me fried rice and it costed us 101,000 IDR after the 50,000 IDR off so it was around 7 USD for our last nite dinner.
I ordered the dinner at around 5 pm and it was delivered at 5:45pm. Here how our dinner looked like
We ordered some of their best sellers. Mom's was song mie (Song Noodle).
It had the mushroom, chicken (really a bit) and also two shrimps as the toppings. It had savory flavour and perfect texture. Plus the shrimp also so tasty savory. But the minus, the portion was so small.
And this was mine, special pork fried rice.
It had quite enough portion. With egg, lapciong (pork sausage), shrimp and also some pork as the topping, it also had savory flavour. It was tasty but not as same as what i tasted in their branch in Surabaya in my childhood time, cause that had been better.
My conclusion was expensive didn't mean a better or best food we could get. But at least they would use high quality ingredients for the food.
So wanna try the chinese food here too?
Depot 3.6.9
59A Mangga Besar Street
West Jakarta
Open daily 10am-10pm
Order it via online apps cause we cannot dine in during this emergency ppkm.