It was supposed to be a normal Sunday evening...
What I had in mind was to "honor" the "Showcase Sunday" initiative. That was before I saw @ausbitbank's post.
Hey, ya all @justinunsteemit's proponents, are you OK with this?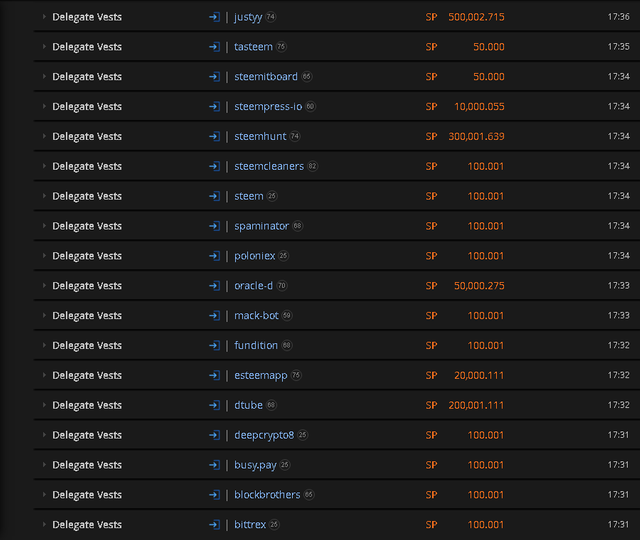 Almost all delegations have been pulled back.
@tasteem from 1 mill SP previously ---> Down to 50SP.
@steemhunt from 1 mill SP previously ---> Down to 300K SP.
@steemcleaners from 1.6 mill SP ---> Down to 100SP.
@spaminator from 2.8 mill SP ---Down to 100SP.
@oracle-d from 2 mill SP ---> Down to 50K SP.
@fundition from 1mill SP ---> Down to 100 SP.
@esteemapp from 500K SP ---> Down to 20K SP.
@dtube from 2 mill SP ---> Down to 200K SP.
@busy.pay from 500K SP ---> Down to 100SP.
@justyy from 0 SP ---------> UP to 500K SP. (Why the fuck an individual...a simple user, received such a big delegation?)
---
Furthermore, have you upgraded your server to run version 22.5? PERFECT! Most likely the next few hours you are about to climb the witness ladder using the elevator (Justin's vote) while everyone else is climbing with bare hands.


Sorry Tim...
---
Isn't it obvious what he's trying to do?
Replace those 20 sock puppets with "real" users...
Maybe he realized how irresponsible and dangerous at the same time is to run all witnesses from a single server.
Judging by the fact that he has absolutely no idea what Busy.org...or Steemhunt or Oracle-d is, I have a feeling that @ned or @elipowell simply back-stubbed those apps. Nice job guys.
So, is everyone happy now? There is not a single tool left to fight abuse and plagiarism around here.
Those apps you just pulled the delegations back from won't even be able to CLAIM STEEM ACCOUNTS ffs.
Mass adoption ya said? Next question plz...
And you want us to believe that you want collaboration with the community and your vision is to help Steem thrive?
You are murdering Steem every single day.
@proxy.token could we have your comment here? Are all Koreans who have proxied their voting rights to you OK with how things play out?
Note that the rewards pool balance has just been altered...
Note2 Expect him to start voting / downvoting content any time soon...