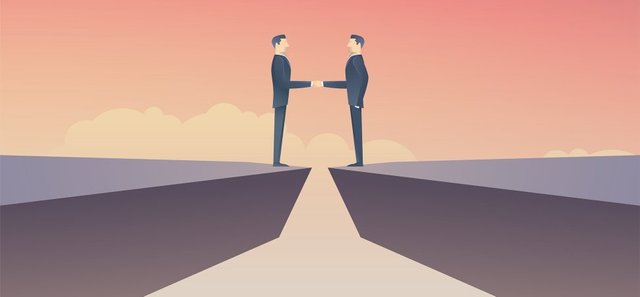 I've been monitoring the news closely, from the very moment Justin Sun announced that he came to an agreement with Ned and acquired Steemit.Inc. Deep down I knew that it won't go well, or even if it did go well it would be really bumpy on its way there, and I was right....
I got to tell you that the whole thing, with exchanges interfering over the governance and the future of the chain and the fact that we are nowhere near to an agreement is giving me grey hair...I am telling you...I already have some... I don't need more...
To begin with, the 2 big exchanges Binance and Huobi must have violated every law there is and with their actions crashed everything decentralization stands for.
They claim that they didn't know and that their intention was to "help" and "protect" Steem from hackers and invaders (our previous top 20) while a HF was in play....REALLY?
We've been through 20+ HF before the 0.22.2 SOFT FORK but never before they had interfered. They usually made the necessary adjustments to their wallets, suspended withdrawals and deposits for a few days for everything to be nice and neat and we were back in business.
So why now? What is different this time?
On top of that they don't mean to understand that they should have already started the power down procedure days ago. By now they could have liquefy 1/13th of they custodial funds they illegally used and return those funds to their rightful owners to do whatever the hell they want with it.
It is twisted isn't it?
I am in favor of the 22.4444 version and totally against the sock puppets that Justin has planted in the top 20...and at the same time my liquid STEEM, which I was holding on Binance to trade has being used to vote for something that I am totally against of. If that's not a fiasco then what is?
My guess is that many of you are in the very same position...
So why they haven't initiated a power down procedure yet?
Because they are buying time....
---
It makes absolutely no sense acting like this. Even if someone was willing to give them the benefit of the doubt that...they didn't know what they were doing...that it was a big misunderstanding....now they are completely informed. THEY KNOW what they should do. What they should have already been doing actually....
Obviously there is a reason for that. And the only solid explanation is that they are waiting Justin to take control of the situation and push a HF that would allow them to exit instantly or in 3 - 7 days, aka--> they are planning to vote again since Justin needs the super-majority of the witnesses (17) and there is no way to get there without their help.
In case you didn't know...there is no such thing as STEEM liquidity on the exchanges right now and the only way for him to regain those 17 spots would be either if be bribed Bittrex -which by the way announced that they have no intention to do such a thing as it is against their principles- oooor to spend a shit ton a $$$ and buy the liquid STEEM from Bittrex's open market.
I am really trying to think of a way that the whole negotiations can move forward but I am 100% sure that Tron's representative, Roy, will demand that the only way we could reach to an agreement would be if we make an exception and allow those exchanges to power down immediately...but that's just a hunch....
In any case I am totally against it. NO EXCEPTIONS. Why should we help someone who tried to ruin what we have been building for the past 4 years? Does that mean that I want them to go down? No. But this would be a lesson for them and for everyone who might attempt to do something similar in the future...
They said they didn't know...well they know now...
The power-down option is there...what's stopping them?
Lemme know what you are thinking of the whole situation in the comment section below.
Have a good one people.
Image Source
---
Don't forget to vote for your witnesses.
---
Cheers.