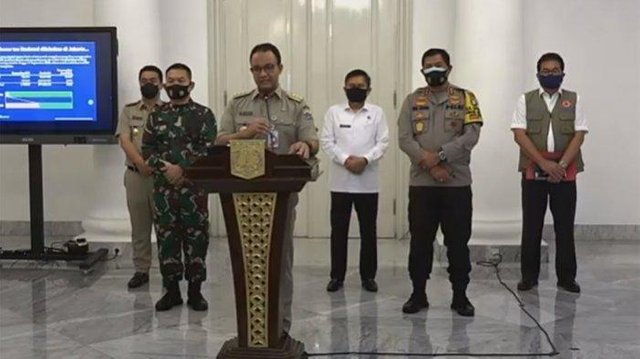 ---
Source
As we know, this strict PSBB is back in effect today 14 September 2020. Where the DKI Jakarta Provincial Government only allows 11 corporate sectors to operate.
Although they must follow strict health protocols, and only allow 50% of their employees to work in the office at the same time.
Well, apart from limiting offices, the Governor of DKI Jakarta, Anies Baswedan, also limits activities in malls and markets. Only half of the total capacity is allowed for visitors.
The re-enactment of the DKI Jakarta PSBB will have an impact on decreasing community activities outside the home, one of the consumption that will decrease due to PSBB is office activities, considering that most office activities in Jakarta will be carried out at home.
"I predict a reduction in fuel consumption during the re-implementation of the PSBB last March. I think that fuel consumption will certainly affect Pertamina's performance. At the first time the PSBB was held in Jalarta, Pertamina's consumption fell even up to 50% compared to normal days. And I think this will return. experience the same thing. But this reduction in fuel consumption will not be as high as 50%, because it seems that our people will still have other activities. Because somehow the economy continues to run, especially for those who like it or not have to move and work."
On the other hand, the implementation of PSBB will increase electricity consumption in the household segment. Because people spend more time at home. However, this condition does not necessarily benefit PLN.
"In my opinion, the re-application of PSBB will actually hit PLN's performance. Because PLN's biggest consumption is the industrial and office segments. Because automatically this electricity consumption will increase even though it is in the household sectors. And in fact, even though the biggest consumption of electricity is the industrial sector. On the one hand, PLN has also suffered a blow, I think with this PSBB. Because many offices have closed, automatically the biggest consumption in this industrial sector will experience significant gains."
The Ministry of Energy and Mineral Resources (SDM) noted that electricity consumption from January to July 2020 reached 138.6 watts. It grew 0.51% compared to the same period in 2019, amounting to 137.3 watts.
The electricity consumption of household customers increased the highest, namely 10%.
Meanwhile, industrial electricity consumption fell 7.34%.
So, see you later.
By @midiagam