Hello Community
This is my first ever post on this community known as LAKSHMI and I am glad to be part of this vibrant community. I appreciate the efforts by @mehta for creating this family and naming it LAKSHMI and this is quite a common word in India.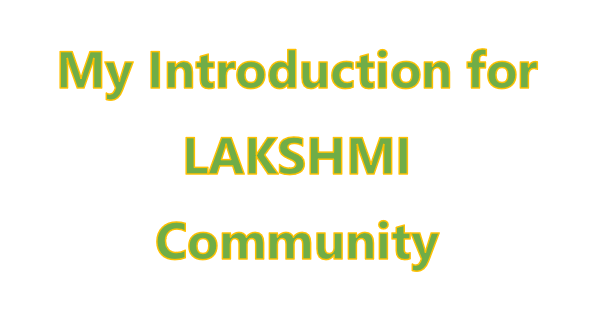 Communities are like a family where can share our content and engage with them to have a connection. I came across this community last week through one of the posts by @mehta in which he talked about the Lakshmi. I joined it immediately and thought of sharing an introduction kind of post to let the people know about me.
I am from India and have completed 2 years last month and in this tenure of 2 years, I have seen many ups and downs and the fight and fork incident in Feb and March. Despite all this, I never lost my belief on the platform and kept on working as usual. There have many changes for sure but I managed to cope up with all and now I feel things are settled down and people over here are again focused to work towards betterment steam.
Here is the snapshot of the Lakshmi community having 254 members and almost 50 active posts which are a very good number. I know that its on the initial phase and there would be many more people coming in but at the low number of subscribers, this active post count is impressive. It clearly shows the enthusiasm of the people of this wonderful community and this is important to take the things forward.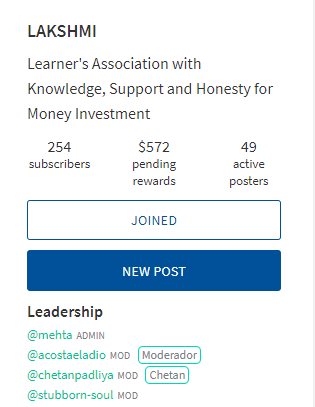 @chetanpadliya is one of the MOD and I am one of his followers here and in Quora as well. It always feels good when we have known people around but at the same time its also great to connect with new ones to learn even more about their world and their culture.
I will try to share my content here as much as possible and also will have an eye to see what's happening around.
I would like to thank @mehta and @chetanpadliya for doing great work on steam and making a community where one can share any type of content related to life, art, technology, finance, etc.
Thank you so much, Everyone
Have a great day