It's been two weeks already since I had my second dose of Covid vaccination. It was said that the vaccine will take its effects two weeks after the second dose, I think for Sinovac. My first dose, so far, went well. I'm not scared of injection, but the effect after the vaccine is my worry once we're under observation period for some minutes. Things went well, and we're advised what not to eat, and what to do when there are some side effects such as headaches or fever.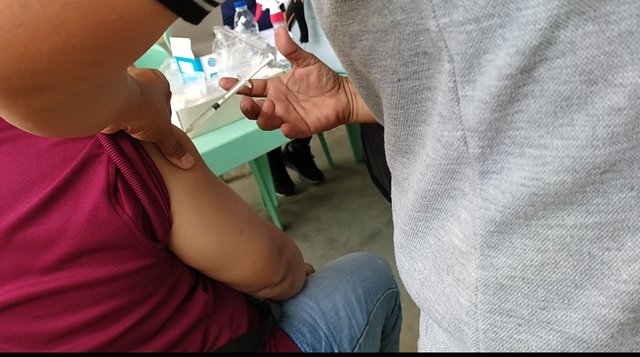 Our second dose has been 28 days after the first one. I had worries at that time because my wife has colds, and I was thinking of not letting her to get the vaccine. I sought advice from our doctor and my sister in law (who's also a doctor), and they said just go and let the vaccinator decide if they'll give the vaccine or not. During the assessment, it seems everyone are rushing and they just let anyone have the vaccine.
However, my wife became sick so she undergone strict self-isolation. Thank God she is better now.
The effect of the first and second dose on my part is the same. I merely had muscle pains for few days, and that's it. I am able to carry out my activities.
---
I heard news about people I know infected with the virus. They're getting closer and closer. My uncle passed away from Covid almost a month ago. They're barely 2 kilometers away from our home. Then two weeks ago, our neighbors (who are my relatives) are infected with the virus. Thus, my stress level intensified since I am also taking care of my wife. I can hear the loud coughing from the neighborhood. I even became paranoid everytime I go out of the house (within the yard) just to receive the grocery deliveries.
---
Friends with Covid
A close friend of mine has been sick for days so he decided to undergo dengue test first to make sure if it's Covid or not. Afterwards, he undergone Swab test, which confirmed he's positive. He's been sick for more than 10 days and his condition didn't improve. He was quarantined at the house instead because situation in the hospital is even harder. Their doctor is checking updates from his wife online, while there's an attending nurse (his sister) checking his vital signs. At this time, he's very weak and yet to improvement because of the severe status. All I can do is pray and hope for his recovery.
---
Another friend has been sick for weeks. He claimed it's flu, but undergone self-quarantine along with his wife who got sick too. He has already recovered, and admitted it's probably Covid. He never undergone tests (he's nervous) thus it was never confirmed positive.
---
I had a chat with two friends this morning, and they're both Covid positive. The other just got his swab results, while the other decided not to have a test but his mother is confined in the hospital due to severe Covid.
---
My brother is currently under recovery too due to COVID-19. He had chest pains, sense of smell loss, severe cough, and fever. So far, he is recovering well. I had a video call with him two days ago. He's coughing badly, and stops talking at some time to breath. I told him to rest but he wants to talk to someone. He also exercises for his immune system. Hoping for his quick recovery.
---
I know some people out there doesn't believe in Covid19. I respect their opinion but they should also respect others who believes in the illness, and taking precautions. Wearing masks can be a sign of sensitivity and respect. I admit being complacent before, and downplayed Covid. But upon hearing from people close to me died of Covid, and some of my friends, and family members and relatives got Covid, I need to observe health protocols and precautions.
Also here