Greetings Steemians,
Perspective can sometimes manifest within a narrow field of vision, that is; how one might adhere to certain beliefs or concepts might become a bit skewed by his or her own personal experiences.
I notice more and more in the world, debate turning into this ugly scene of slander, silencing, and diminishing.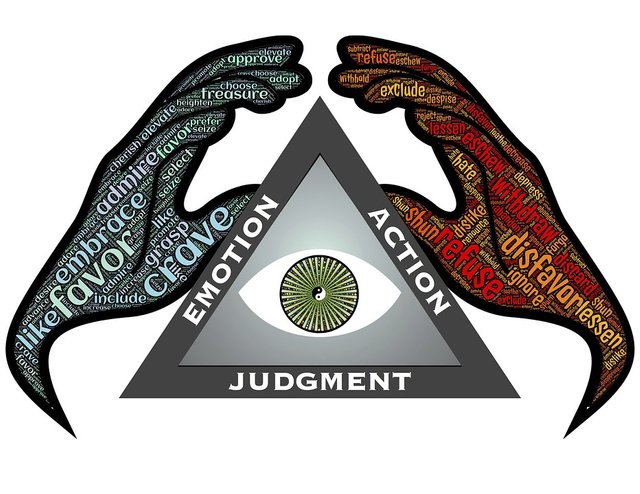 Pixabay
I enjoy debate, friendly debate, and debate can take on a negative vibe at times, where opinions flare and the general stage get's a little uncomfortable. We are of course creatures of habit, and neuroplastic in our thinking.
I do draw certain lines. When a person I'm debating with resorts to slander, silencing, or diminishing.
"When debate is lost, slander becomes the tool of the loser". -Socrates
I find there to be a great deal of truth in this quote. Oftentimes when a person resorts to slander, silencing, or diminishing, it's because they have run out of "arguments" and feel aggression is their only tool left to protect their belief.
I enjoy thought challenging. I don't like to subscribe to concrete beliefs, because I've noticed that many who do, become hostile individuals when challenged, and if you cast your beliefs in concrete, how then will you grow and learn new concepts and ideas?
Sometimes I think it's good to really listen to what a person has to say. It reminds of a post I read recently by @raymondspeaks titled In A World That Encourages You To Share Your Thoughts — Shut Up and Listen. This is pretty deep, and he makes some really great points that I personally agree with. I recommend checking it out!
I like to say:
Everyone wants to be heard, but no one wants to listen.
This seems very true to me, and I know for a fact that some people do indeed listen well and enjoy listening to others, because I'm one of them but I'm not so sure this is the collective majority.
I've done some cognitive processing therapy in the past, and we did this exercise called "challenging beliefs", in which we took a look at certain concrete beliefs that we had, calculated some statistics and odds, and reassessed the likeliness of these beliefs. In some aspects the exercises didn't work out too good for me, but it gave me some perspective to consider.
When I think about what I believe, I like to consider where I came up with the belief to begin with.
Was it produced from my own creative thought processes?
Was it something I learned in elementary school?
Did I see it on CNN? NO WAY I DON'T WATCH PUPPET SHOWS
Perhaps you the reader sees what I'm getting at here. So many people have political "ideas" and "beliefs" and please, for one moment consider the source. They don't call public broadcasts "paid programming" for nothing!
I think much of it is just human nature. We're a tribal species and I think many will agree when I say, innovative thinkers are not the majority.
The polarization's I see in the world ranging from politics, to science, to religion, ect, serve no better purpose than to keep us divided. (in my opinion) Hate is a powerful emotion, and is very negative. I try not to hate anyone. There are plenty of people who've hurt me in the past, but I take a sympathetic perspective, because much of what our perception amalgamates to is a projection of sorts, and sometimes feeling hurt by someone is nothing to do with the person who hurt us at all, but rather an internal perception, which we ourselves are the controllers of, no one else.
So what is the point of this article?
Well, I just can't seem to help myself when it comes to getting involved with certain debates and topics, and my reaction to slander, silencing, and diminishing is not positive. (at least not internally) When a person becomes aggressive in a debate in these manners, I tell them we are done.. Plain and simple, but not so simple for my processing.
I'm left feeling abused and upset, and can't seem to fathom why a person cannot have their beliefs challenged a single bit without resorting to hostility.
I really don't have an issue with having my beliefs challenged, and hey.. it's not easy to sway futuremind's beliefs, because I think quite a bit, and consider variables, so generally I have what I consider to be pretty decent arguments for certain topics, but when I get challenged and realize the other person has a sound point which deconstructs and crushes my logic, I admit they are right from my vantage point, and leave the debate feeling like I learned something new!
Why are some unable to do this? Well, perhaps it's an inability to think for themselves, piggyback spoonfed bandwagon ideology seekers. I don't know, but it does become mentally taxing when people are so abusive in debate. I myself never claim to be perfect, and sometimes I do leave debates feeling like maybe I went a little too far with my opinions, and that perhaps I was pushing the boundaries of respectful debate, but I always try to maintain respect for the opinion of others.
That's pretty much it for my thoughts here. I like to question virtually everything that I know and believe, and I think everyone should. I propose that you should always consider the source of your beliefs, and ask yourself:
Is this my belief, or is it someone else's?

Thank you for stopping by, I hope you're all having a wonderful day!


Much love,
@futuremind



Posted with eSteem Surfer