Paul recently experienced the phenomenon of repression, and it wasn't the first time he experienced memories flooding back that had vanished.
Paul believes repression is pretty normal if you've ever experienced trauma, and when the regurgitation of these memories surfaces, it can be overwhelming, but it is a sign that your subconscious mind has released the repressed memory/memories because it is confident that you can now process in a healthy way.
The subconscious mind is much more powerful than many are aware of. In fact while you're thinking about it in your conscious mind, it's likely that your subconscious is processing various amounts of different information, much of it is probably not even related to this topic. Far out!
Paul is not comfortable to talk about all of the repressed memories, (some were very traumatic for Paul and he's still working through them.) and some of them Paul is not even sure why they repressed..
Back when Paul was in active addiction, he still adhered to certain principles of morality, but when he felt he was violated, he had the propensity to become rather ruthless.
During a conversation with a long time drug partner a few years ago, a topic was brought up.
"Paul, I'll never forget the time you held a man's head to the pavement with oncoming traffic and asked him if he had any last words before the a truck splattered his brains on the road."
Paul had absolutely no recollection of this, and asked:
"What are you talking about? I would never do that.. You are thinking of someone else!"
He certainly was not thinking of someone else..
When describing the details:
"Paul, he stole from you, and we know how strong your morals are with things like this.. When you saw him you chased him down, grabbed him by the back of the neck and asked him how he would feel if someone stole from him.. Then asked him if it was worth his life that was about to be extinguished by oncoming traffic. Screaming, you asked him if he had any last words, and he cried and begged for your forgiveness and for you to spare his life, which you did.."
Just like that, the memory flooded back in and Paul remembered.
"Oh my God, you're right, I remember.. I don't know why I forgot. I felt bad about it, felt like I went too far over a principle. I felt so bad after he begged for his life. I felt like a monster."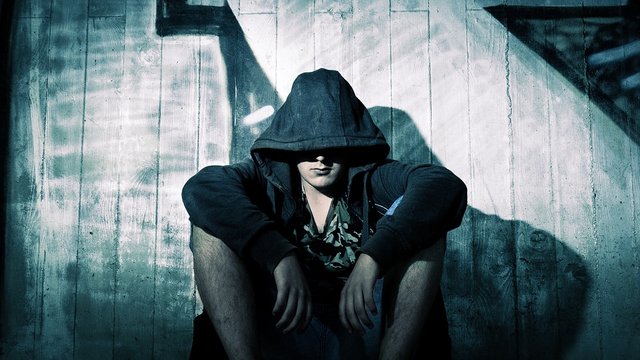 Pixabay
Paul was known to become a monster when he drank. It started out as partying in his early drinking years, but then some manifestation of trauma surfaced, and anyone who had hurt him in the past was at risk for something bad to happen to them.
Paul knew very well why this was occurring. Paul was always so very loving, giving, compassionate to others, and lived a life where people bullied him, hurt him, and generally just walked all over him.
When Paul's monster would surface, people would be utterly terrified and shocked, and Paul's reaction was generally one of "You should have fucking thought about that before you did me dirty. You shouldn't have mistook my kindness for weakness!"
Today Paul is certain that if he didn't quit drinking and using drugs he would have eventually murdered someone. The alcohol inhibited his ability to care about consequences, and nothing mattered more than righting the wrongs done to him in those moments of psychosis.
Story after story, memory after memory, Paul remembered how he brutalized other drug addicts. He would lend money, if it was not paid back, there was little to the limits of Paul's vengeance.
Paul always justified his behavior, because Paul never borrowed, Paul never lied, Paul never stole, Paul never cheated. The Marine Corps had done a fine job of instilling "Corps values", indeed.. but Paul was like that before the military, it was just how he was from a young age. Very morally driven.
Paul to this day is not sure how or why he has morals like this. They certainly were never taught during childhood. Paul was a victim of child abuse, and there was never any inclination of thinking it was acceptable in Paul's mind, or that he deserved the torture he sustained. Paul was just an observant child, and paved his own path of morality, later to be used as a scapegoat for vengeance.
Paul believes the strong morals helped him recover from addiction, because morality is lacking with drug addicts, and Paul knew he could not sustain association to these types. Treat people how you would want to be treated, Paul has always believed in that frame of thinking, but Paul also knew that harming others was not justifiable. He simply didn't care when he was drinking.
So why did Paul repress memories of hurting others when he was in active addiction?
It could be that Paul was experiencing quite a bit of denial about his addiction and behavior.
For a long time Paul did not consider himself an addict. He wanted to get drunk and stoned, and who was anyone to say it was a problem if Paul didn't think it was a problem? Despite being chronically homeless for so long, Paul would not accept he was an addict.
It wasn't until experiencing some lock up time that Paul really started to think and process.. Paul had to forgive, let go of the trauma.
Paul was battling the trauma of his monster of a father, and what happened, was Paul manifested his own monster to cope... Deep within.
The catalyst to the monster was the drugs. Without the drugs, Paul was generally always pleasant, nice to people, generous, giving, compassionate, and a step away from being taken advantage of at any given moment.
Alcohol and drugs gave Paul the ability to let that monster loose. The ability to hurt others with little remorse in the moment, and in some aspects gave Paul a sense of power that was intoxicating in and of itself.
That power being the monster, which today Paul sees as a Dr Jekyll and Mr Hyde of sorts.
Paul had two sides to him. The loving compassionate person that he truly is, and the monster that he needed to release.
The monster of course, was a hurt little boy..
A little boy who loved his father and couldn't reconcile how a man could hurt his own children and wife in such a way.
Paul finally figured out that forgiveness is the key.
As you will hear some say, forgiving is not for the abuser, it's for the victim.
A victim mentally is a life of pain, addiction, denial, regret, delusion, and downright negativity.
Healing is a lifelong process for people who've experienced extreme trauma, but Paul thinks a victim mentally is no way to live, for the past is the past, and will always stay in the past. If you're not a victim today, you're not a victim.
Perception is everything, and when old wounds resurface which may have been repressed, it's an opportunity, an opportunity to finally face those old memories from a new perspective, and it's important to be kind to yourself.
The past does not define who you are in this moment. Examine those memories in a non-judgmental way, examine the progress you've made, have a look, the monster might resurface at times. Just give him/her a hug, it's probably all he/she needs.
That's what Paul thinks..
Paul's Reflections
Paul Says Cope With It
Paul's life

Thanks for stopping by, I hope you're all having a great day!


Much love,
@futuremind



Posted with eSteem Surfer