Here's a ridiculous picture showing the stark contrast that COVID-19 has brought to our economy and society as a whole. Noted CNBC finance hypeman Jim Cramer stands in front of a Bullish Headline, announcing the best week in the stock markets in 72 years, while unbeknownst to him, the most bearish headline we have ever seen in the past 80 years flashes on the ticker below him.
You know what this is? It's absurd. The more people get sick, the more people die, the higher the US stock market goes up.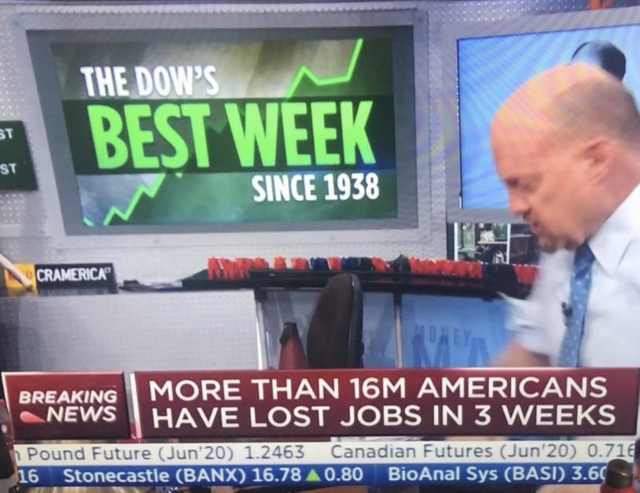 Do u know what that means? It means we are firmly in the grip of late-stage capitalism.
It's been a good run. We've seen unprecedented wealth creation at scale across a wide swathe of society. But let's be honest when we observe that trend and realize that it has not been the case in 21st Century hashtag#America. After the dot-com collapse, we've pretty much only seen policies that reward the rich and punish the workaday class. The Gini coefficient in America has gotten embarrassingly high. The CARES Act is only going to exacerbate that trend.
The US has become a nation where people buy nice, expensive cars with money they don't have (credit cards, auto loans) to drive to places they can't afford (restaurants, hotels, cruises) to impress people they don't know (social media) and, even though the government is aware of this absurdity (surveillance state), it will still prioritize giving money to rich people & corporations to satisfy an economic idea that has already been debunked countless times (trickle-down economics).
So here we are: Late stage capitalism.
As with coronavirus, we knew it was coming. And we did nothing.