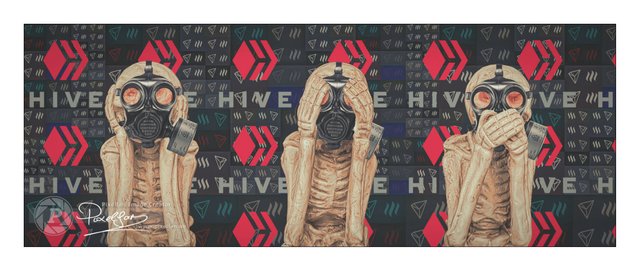 And as you can see from the background my 3 skinny friends discovered Hive too!
What? Are you one of those who don't know what Hive is, despite all the hype right now...
Well, that's too bad because this press conference is really short (yep, my 3 friends are a bit lazy…)
But maybe this can help…
Take a look at this announcement and you will be up-to-speed in no time 😉
Anyway, my friends just want to say that from this weekend on you will be able to follow their adventures… on hive of course!
BUT…
It doesn't mean they (and I) will leave the steem chain for good (yet). Of course we hope Hive will be a big success… but right now we are missing some more clarity on a couple of things. Especially the fact that, for now, steemworld will not work on the new chain… and also that we don't know what will happen to all the different steem-engine tokens…
So, for the time being, we will post on Hive and we will support the witnesses over there, just as we did here. And we will continue to support every action against sunny-boy here…because we don't like him 😊
But we will not leave steem (the chain, not steemit, we don't use that interface for months already…) immediately. At least not from day 1…
So, see you there...and here...and Hive on 🙃😜🙃

You liked this post?
Right you are 😉
Just follow me here on steemit or steempeak or neoxian.city or… whatever tribe you like 😉 ( @pixelfan ) to make sure you don't miss any new work. As you can see from my results on steemitboard, I do spend a lot of time here…
BTW: I will not ask you to upvote my posts… deep down inside you know you have to 😉
Curious to see my other work?
Although I spend most of my time on steemit, you can also find me in other places… just take your pick…






Posted via neoxian.city | The City of Neoxian