Breakfast on October 17, 2020
For breakfast yesterday, I had moon cakes.
Mooncakes are Chinese festive food on August 15.
Autumn is from July to September,
August 15th happened to be the middle day of autumn,
So it is called the Mid-Autumn Festival.
The round moon represents the members.
On this day, people who go out will go home, and the whole family will be reunited.
At home in normal times,
I have the habit of buying moon cakes,
Moon cakes are delicious,
It's loose and not too hard,
Pie crust is a multi-layered practice,
The size is just right to swallow in one bite.
This moon cake has the taste of mashed taro,
Fragrant and sweet,
There is no egg yolk, only taro puree,
Cholesterol is not too high.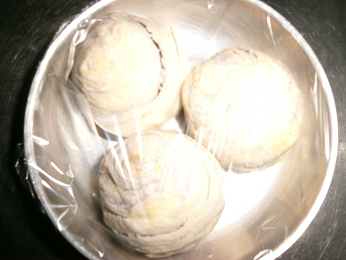 2020年10月17日的早餐
昨天的早餐,我吃的是月饼.
月饼是中国人在8月15日的节庆食物.
秋天是7~9月,
8月15日刚好是秋天的中间日,
所以称之为中秋节.
圆圆的月亮代表着团员.
这一天,外出的人都会回家, 全家人大团圆.
家里在平常的时候,
就有买月饼的习惯,
月饼很好吃,
松松的又不会太硬,
饼皮是多层次的做法,
大小刚好可以一口吞下去.
这个月饼是芋泥的口味,
香香甜甜的,
没有包蛋黄, 只有包芋泥,
胆固醇才不会太高.