Cardano analysis
it is founded by Ethereum's former Co-founder Charles Hoskinson.
The project pride itself as a peer-review systemic Distributed Ledger Technologies product.
It is a completely open source blockchain project, a blockchain platform oriented by scientific philosophy and technical research.
This project is dedicated to creating a smart contract platform that is more complete and advanced than Ethereum.
This project is also benchmarked against EOS and is known as the strongest competitor of EOS.
Provide point-to-point payment function, fast and low cost.
Holders Can Begin Earning ADA Through Staking, had a nice little sandbox, you can register as a stake pool, you can delegate.
Crowdfunding was conducted from September 2015 to January 2017.
Of the total issuance, 25 billion used for platform subscriptions, 5 billion will be used to fund the development company operating company, and 15 billion will be continuously distributed in the form of block rewards.
Circulation 25,927,070,538.
The total circulation is 45,000,000,000.
The issue price is 0.022 USD.
The highest price in history is 0.3885 USD.
The lowest price in history is 0.01765 USD.
The current price is 0.11723 USD.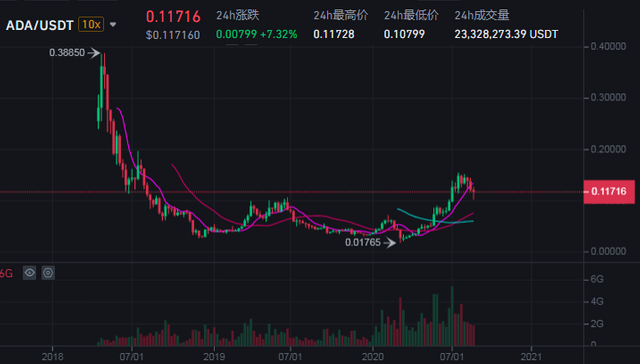 卡尔达诺分析
它由以太坊的前联合创始人查尔斯·霍斯金森(Charles Hoskinson)创立。
该项目以同行评审系统的分布式账本技术产品而自豪。
是一个完全开源的区块链链项目,以科学哲学和技术研究为导向的区块链链平台。
此项目致力于创造一个比以太坊更加完善,更加先进的智能合约平台,
此项目又对标EOS,被称为EOS的最强竞争者。
提供点对点支付功能,快速且低费用。
持有人可以通过抵押开始赚取ADA,拥有一个漂亮的小沙箱,您可以注册为股份池,可以委托。
在2015年9月到2017年1月进行了众筹。
发行规模中的250亿用于平台认购,50亿用于开发公司运营公司的资金支持,还有150亿以区块链奖励的形式不断发行中。
流通量25,927,070,538。
总发行量45,000,000,000。
发行价0.022 USD。
历史最高价0.3885美元。
历史最低价0.01765 USD。
目前价格0.11723美元。