Chinese word-making art "Talent"
I writed 1 Chinese word at today,
This word is use pencil to write,
This word is "Talent".
I writed 3 words as shown.
These 3 types of writing all is refer to "Talent" word,
Them is at different era, different ways of writed.
In ancient of China,
The word "Talent" is a fake borrowed word.
Use grass to describe "Talent".
So it 's written as
First draw "Horizontal line", which represents the land.
Draw "Vertical line" again, representing grass that sprouts upwards and roots downwards.
The black area in the middle represents the seeds.



Other word-making arts
"Rain" and "small"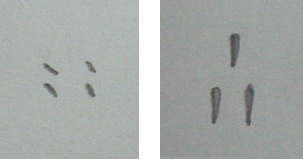 "thunder"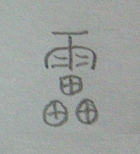 中国造字艺术 "才"
我今天写了一个中国字,
这个词是用铅笔写的,
这个词是"人才"。
我写了三个字,如图所示。
这三种写作方式都是指"人才"一词,
他们处于不同的时代,不同的写作方式。
在中国古代
"人才"一词是假借来的词。
用发芽的草来形容"人才"。
所以其写法为
先画"一横",代表着土地。
再画"一直",代表着向上发芽和向下扎根的草。
中间的涂黑的地方,则是代表着种子。
其他造词艺术
"雨"和"小"
"雷声"