Is IOST worth having?
When I went for a run today
Friend asked me
Can IOST be bought ?
The current IOST is only $0.0074
Its lowest price in history is about $0.007
My friend said: It looks like it is going to rise?
This IOST is very famous in the currency circle
Approximately at 100 place by market value
At the beginning of its release
it had Airdrop
Some friends and I participated
The airdrop coins we obtained are in its web wallet
But cannot be withdraw
Because it has a minimum amount of withdrawal
withdraw seems need there are thousands of pieces coins
After the ICO ended and went public market/Exchange
Its webpage also continues to promote daily tasks
Can get some currency every day
The market price at that time was about $0.14
The result , before a few weeks
It changed the URL
So the tokens in the wallet of the old URL
All drowned
It didn't move everyone's information to the new URL
Write email to ask
it No reply
its hype is very rough
Many people do daily tasks
For several months
But it released everyone's pigeons
So it's not very good
Since listing
It keeps falling
Occasional small rise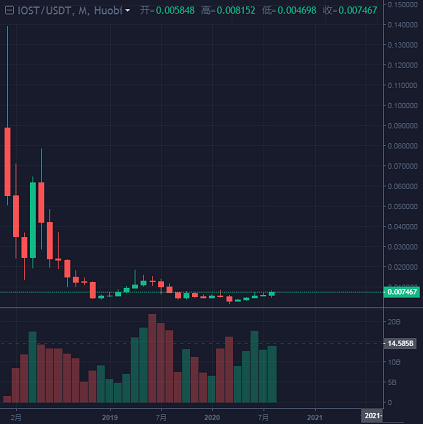 IOST 值得拥有吗 ?
今天去跑步的时候
朋友问了我
IOST可以买吗
目前的IOST只有0.0074美元
其历史最低价约为0.007美元
朋友说:看起来好像要涨了?
这个IOST在币圈很有名
市值排行约100名
在它发布之初
有过空投
我和一些朋友们有参予到
我们所获得的空投币在它的网页钱包之中
但无法取出
因为它有规定取款的最低限额
似乎是要有好几千枚才能提出吧
它在ICO结束并且上市之后
它的网页还有持续的推动每日任务
每日可以获得一些货币
当时的市价约0.14美元
结果在我们快达到可以领出的前几周
它更换了网址
所以旧网址的钱包内的代币
通通被淹灭了
它并没有把大家的资料给移到新网址
去信询问
完全没下文
官方的炒作手法很粗躁
很多人每日做任务
达好几个月
结果它却放了大家的鸽子
所以它的风评不是很好
上市以来
也是一直在跌
偶尔小涨