Predicting the US presidential election
ionomy is a small exchange,
Can trade STEEM/HIVE/BLURT and some mainstream cryptocurrencies
On September 25th, the BET event was officially launched!
Forecast of future events.
The current activity is to predict the US presidential election
TRUMP VS. BIDEN
Who do you think will win the 2020 Presidential Election?
Users of ionomybuy a token that represents the outcome they think will happen.
Tokens that represent incorrect predictions expire worthless.
Tokens that represent correct predictions will be credited 1 BUSD.
The current forecast for TRUMP is about 0.44 BUSD~0.46 BUSD
The current forecast for BIDEN is about 0.55 BUSD~0.56 BUSD
Distance to general election,
There is still a month left.
Maybe look at the polls before the election,
According to the polls before the election,
It will be easier to guess.
People who are interested in this activity,
You can take a look.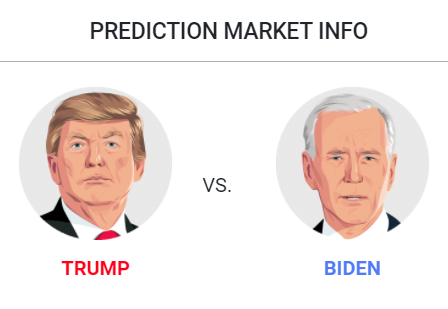 预测美国的总统大选
ionomy是一个小型的交易所,
可以交易STEEM / HIVE / BLURT和一些主流的加密货币
在9月25日,官方推出了BET活动!
未来事件预测。
目前活动为预测美国的总统大选
浦川 VS 拜登
您认为谁会赢得2020年总统大选?
ionomy的用户购买了代表他们认为将要发生的结果的令牌。
代表错误预测的代币将一文不值。
代表正确预测的代币将记入1 BUSD。
目前预测浦川的, 约0.44 BUSD〜0.46 BUSD
目前预测拜登的, 约0.55 BUSD〜0.56 BUSD
距离大选,
还有一个月的时间。
也许选前来看民调,
按照选前的民调来预测,
会比较容易猜中。
对这个活动有兴趣的人,
可以看看。