SILVERSHIELD ASSASSIN cleared the customs
I just sent a life team
4 cards
The first card is a chicken, and its attack power is 0.
The attack power of the remaining 3 cards is 1.
The enemy is also 4 cards,
But the attack power is 3/2/2/1.
at a first look,
The enemy is better than me,
but, I won this contest.
The key is because of SILVERSHIELD ASSASSIN.
SILVERSHIELD ASSASSIN can attack 2 times,
SILVERSHIELD KNIGHT can increase attack power by 1 point,
So my SILVERSHIELD ASSASSIN will become 2 points of attack power.
And SILVERSHIELD ASSASSIN attacked first,
The 3 cards behind the enemy have very low health.
It happened to be restrained by me.
The enemy's first card is very strong,
Fortunately, there are 2 bad cards in front of me to send die,
and so,
At the back, I played him with 2 cards,
So it won.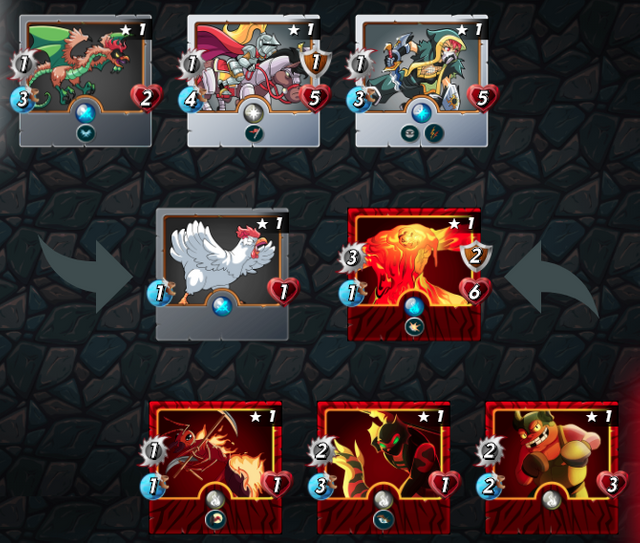 银盾刺客打通关
刚刚我派遣了生命团队
4张卡片
第1张是鸡,攻击力为0。
剩下3张的攻击力都是1。
敌人也是4张,
但攻击力各为3/2/2/1。
乍看之下,
敌人比我厉害,
我却获胜了。
关键是因为SILVERSHIELD ASSASSIN。
银盾刺客可以攻击2次
SILVERSHIELD KNIGHT可以增加1点攻击力,
所以我的SILVERSHIELD ASSASSIN会变成2点攻击力。
而SILVERSHIELD ASSASSIN是先攻击后方的,
敌方后面的3张卡,血量都很低,
刚好被我给克制到。
敌人的第1张卡很强,
好在我前面排了2张烂牌来送死,
所以,
后面我是2张卡打他1张卡,
故而获胜。