Small snack cookies-croissant crisp
Recently I bought some small snacks at home.
This is a biscuit, starchy food.
Made with corn flour.
Its shape resembles a horn, so it is called horn crisp.
It tastes crunchy and a bit salty.
The biscuits weren't very hard, they broke when bitten.
The biscuit shell is not very dense, very loose, and porous.
There are not many pieces in this package,
I can eat two packs each time,
While watching TV,
Eating it and drinking coffee,
I ate it before I knew it.
But don't eat too much,
So I eat up to 2 packs a day.
When buying,
To touch the bag,
If the packaging bag is bulging, it means it is still fresh,
If the packaging bag sinks, air has entered and it is easy to break.
After opening, the horns are crispy, will become fluffy and soft, and become unpalatable. It is best to eat them all at once.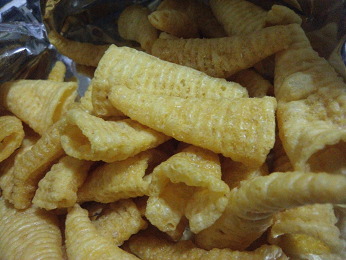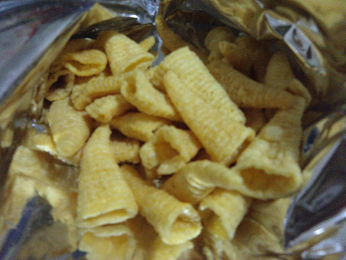 小点心饼干-牛角脆
最近家里买了一些的小点心.
这是一种饼干,淀粉类的食品.
用玉米粉所做成的.
其造型像似牛角,所以被称之为牛角脆.
吃起来脆脆的,有点咸.
饼干没有很硬,一咬就破了.
饼干壳没有很密实, 很松散, 孔隙多.
这个一包里面没有多少块的,
我每次都可以吃两包,
在看电视的时候,
边吃边喝咖啡,
不知不觉就吃完了.
但不可以吃太多,
所以我每天最多吃2包.
买的时候,
要摸摸包装袋,
如果包装袋是鼓鼓的, 表示还新鲜,
如果包装袋有陷下去了, 就是进了空气, 容易坏掉.
打开后的牛角脆, 会变得松松软软的, 变得不好吃, 最好是一次性地吃完.