The skyrocketing and plummeting of cryptocurrencies
Recently,
A bunch of altcoins skyrocketed and plummeted.
Some altcoins suddenly skyrocketed by 50%, then skyrocketed by 30%, and then plummeted by 35%.
Some altcoins suddenly skyrocketed by 30%, then skyrocketed by 20%, and then plummeted by 30%.
The increase is great, and the decrease is also great.
There was a big storm
STEEM token does not know if it is affected,
This is a cryptocurrency that does not rise or fall,
It also soared 15%, or plummeted 10%,
The rise and fall of STEEM token is generally very small, and more than 10% is considered a violent rise and fall.
But overall it looks
STEEM token should be able to stay above $0.2
Interested in powering up
When it falls back a bit
We can Plus power up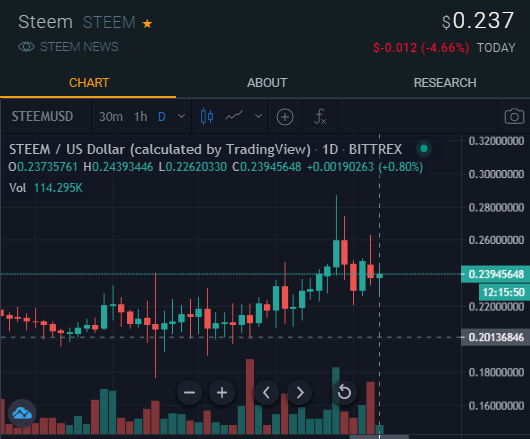 加密货币的暴涨和暴跌
这几天,
一堆山寨币暴涨和暴跌.
有的山寨币,忽然暴涨50%,又在暴涨30%,然后暴跌35%.
有的山寨币,则是忽然暴涨30%,又在暴涨20%,然后暴跌30%.
涨幅很大, 跌幅也很大.
上演了大风大浪
STEEM token 不知道是不是受到影响,
这是不太涨跌的加密货币,
居然也暴涨了15%, 或者暴跌10%,
STEEM token 的涨跌, 一般很小, 超过10% 便算暴起暴落了.
但总体看起来
STEEM token 应该能稳住在0.2美元以上
有兴趣加电的
可以当其回落一些的时候
加码通电