Wait? Another discord notification bot for STEEM?
Yah, I know that we have 2 notification bots already, they are RUPA and MimeeBot
I tried both bots but getting many notifications that I don't really need. Like the comments I sent, the upvotes I received or sent, etc.
So I decided to create my own notification bot just for my personal uses
@cryptokannon came to my post said she's having same problem with RUPA and MimeeBot, and she asked if she could subscribe to the discord notification bot I created
Okay @cryptokannon, here you go, the discord notification bot now you and everyone can subscribe
Dino STEEM Home page: https://dino.steem.buzz/
Discord: https://discord.com/invite/UFSdGbN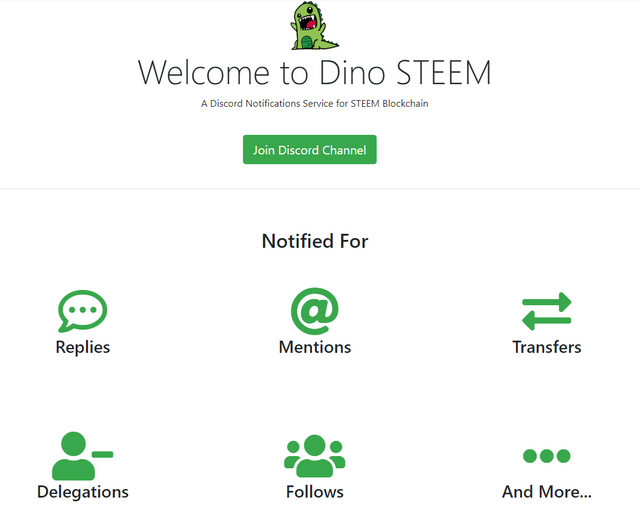 Notifications available at the moment:
Incoming Replies
Incoming Transfers
Incoming Delegations
Incoming Downvotes
Approved and Unapproved Witness Votes
Mentions
Got Followed
Posts Got Resteemed
How to subscribe?
Join the discord: https://discord.com/invite/UFSdGbN
Type: !reg your_steem_id in registration channel, Dino will send you the step to get you registered
Once you got registered, you can type !set your_steem_id to change the default notification settings
Dino will create you a settings page, and you are free to disable the notification or change the notification settings: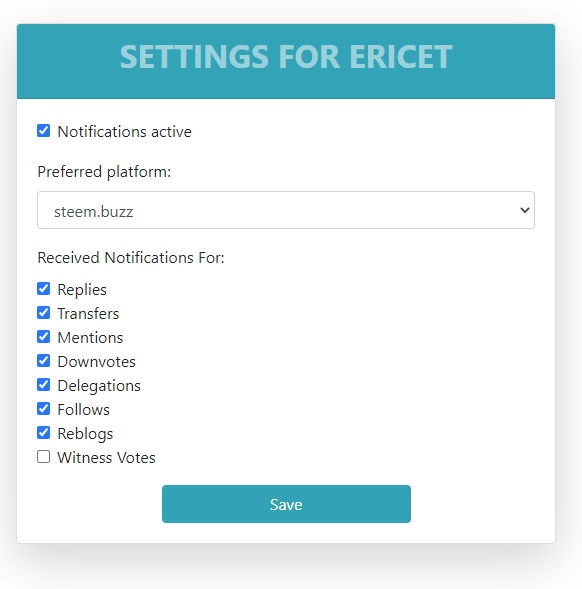 Here are some of the sample notification messages: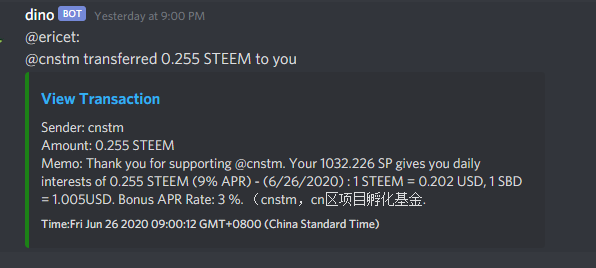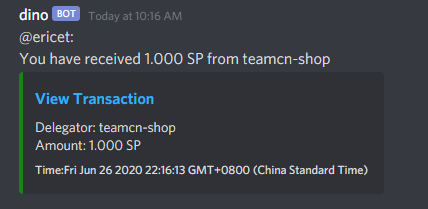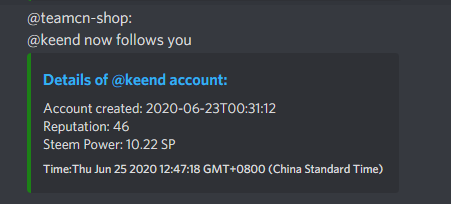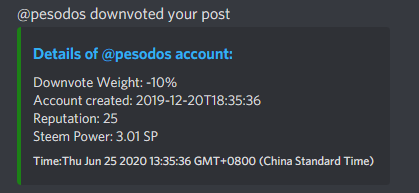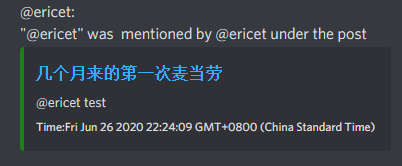 Please let me know if you have any issue.
---
之前一直在用Discord的GinaBot消息提醒机器人,但是可惜分家后,GinaBot跑去HIVE链上去了
后来STEEM这边的开发者也开发了2款Discord消息提醒机器人,他们分别是MimeeBot 和RUPA机器人
这两款我都试过,体验都挺一般的。两款都不能设置接受哪种消息提醒,所以都是一窝蜂的把所有记录推送给你。如果你的帖子被几百个账号点赞,那消息提醒可把手机折腾要死。没用的提醒一大堆,有用的提醒又掩盖在一堆没用的消息提醒里面。
而我只想要回复,转账,关注,踩,mention这类的消息,所以就打算自己写个Discord 消息提醒机器人
所以自己写了一个消息提醒机器人,给自己用
有人看到这个消息提醒,就问我是否也让她使用。所以就把这个消息提醒机器人做成了服务,让大家使用
Dino STEEM的主页:https://dino.steem.buzz/
Discord 频道:https://discord.com/invite/UFSdGbN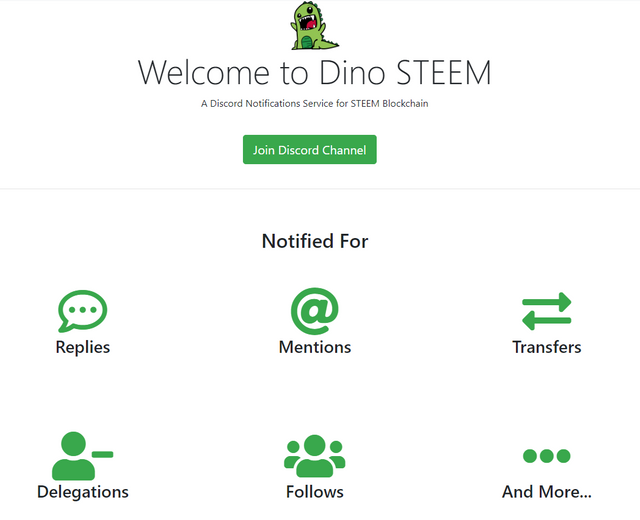 目前支持的消息提醒:
收到回复
提到
被关注
收到转账
收到代理
被踩
帖子被转发
收到见证人投票,被撤销见证人投票
怎么注册这个消息提醒服务?
加入Discord:https://discord.com/invite/UFSdGbN
在registration频道输入!reg your_steem_id, Dino就会自动发你注册的步骤
注册完成后,如果你要修改默认的消息提醒设置,可以输入!set your_steem_id
Dino会自动生成一个设置页面链接,你可以在那个页面上更改消息提醒设置: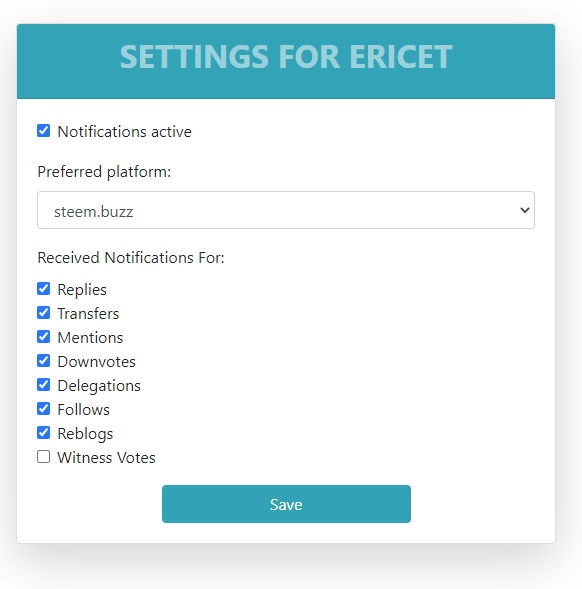 一些消息提醒: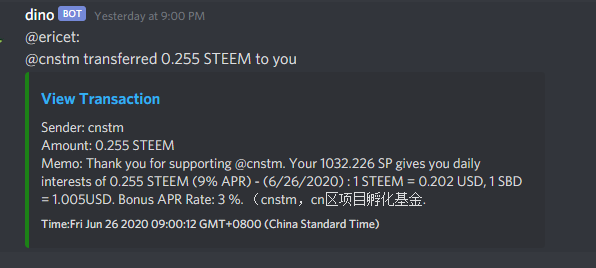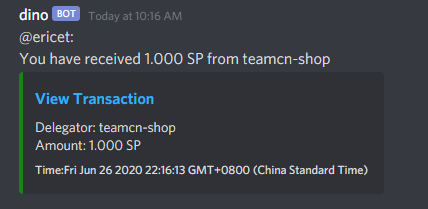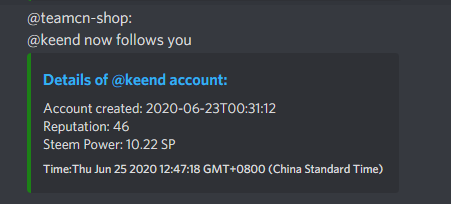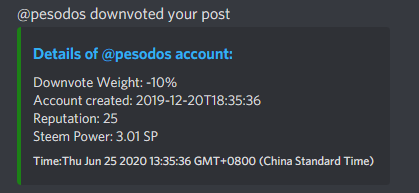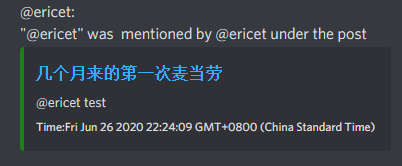 如果有任何问题,欢迎提问