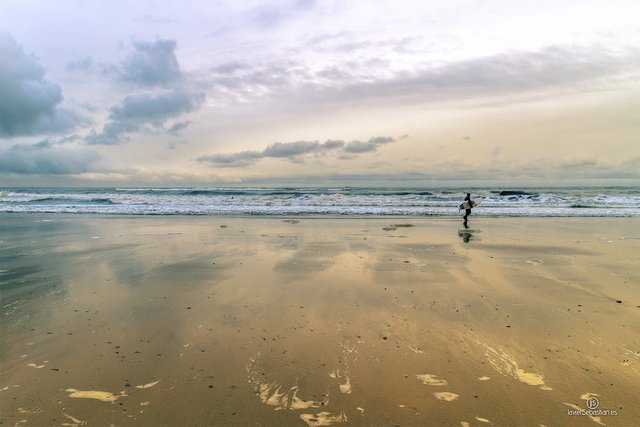 THIS IS MY ENTRY FOR The World of XPILAR - LANDSCAPE/SEASCAPE PHOTOGRAPHY AND ART CONTEST WEEK #073

by @axeman
---
Hello friends:
For this week's contest I have decided to participate with this photo of a lonely surfer in St. Andrews Beach, in Scotland.
I remember that it was very cold at that time of year, cold that I hope is expressed in the photograph.
A hug.
**************
Hola amigos:
Para el concurso de esta semana he decidido participar con esta foto de un surfista solitario en St. Andrews Beach, en Escocia.
Recuerdo que hacía mucho frío en esa época del año, frío que espero que se exprese en la fotografía.
Un abrazo.
---
| CAMERA | LENS | FOCAL DISTANCE | Tv | Av | ISO |
| --- | --- | --- | --- | --- | --- |
| CANON EOS 100D | TAMRON 18-200mm. | 18mm. | 1/60s. | f/8 | 100 |
---

www.javiersebastian.es
Copyright: Javier Sebastian, Canary Islands. All my images are original.
If you want to buy any of my visuals, please drop me a message, I'm on Discord: JavierSebastian#5816
---
COINBASE | Facebook | Twitter | Instagram | Youtube | Invite me a Coffee | Patreon
---
I use this wonderful service to trading crypto coins.
I use these services to earn token while surfing the web. These are my referral links.


I use this service to BUY CRYPTO with my CREDIT CARD. This is my referral link.

I use this service to PURCHASE and WITHDRAW to my BANK ACCOUNT. This is my referral link.