Saludos a toda la familia STEEMIT, está es mi participación en el concurso de @axeman, si deseas participar ve a este enlace: https://steemit.com/hive-185836/@axeman/the-world-of-xpilar-cityscape-photography-and-art-contest-week-037-20steem-14sbi-in-prizes-submissions-post
Greetings to all the STEEMIT family, this is my participation in the @axeman contest, if you want to participate go to this link: https://steemit.com/hive-185836/@axeman/the-world-of-xpilar-cityscape -photography-and-art-contest-week-037-20steem-14sbi-in-prizes-submissions-post
Vivo en quibor estado Lara Venezuela, está fotografía es un trípode, hace referencia a la época en que habitaban los indígenas en estas tierras calientes.
I live in quibor, Lara State, Venezuela, this photograph refers to the time when the indigenous people lived in these hot lands.
This monument is called: tripod
Está ubicado en una redoma con tres vías: la primera se dirige a un pueblo llamado Cubiro, la segunda va hacia una ciudad que se llama Tocuyo, y la tercera vía es acá en mi pueblo llamado Quibor.
El trípode es un monumento alto y muy grande, acá en mi pueblo para referirse al monumento o tomarlo como referencia le llamamos: la tinaja.
It is located in a vial with three routes: the first one goes to a town called cubiro, a cultivation area for parents.
The second goes to a city called the tocuyo, and the third way is here in my town called quibor.
The tripod is a tall and very large monument, here in my town to refer to the monument or take it as a reference we call it: the jar.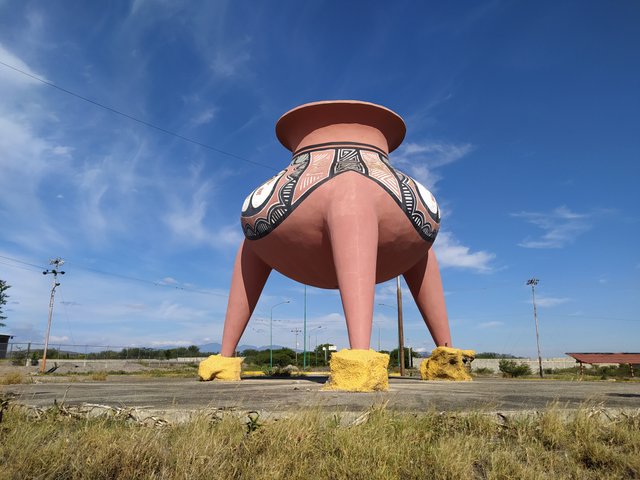 ---
Gracias a @axeman puedo participar en este concurso es un gusto hacerlo.
Thank You @axeman