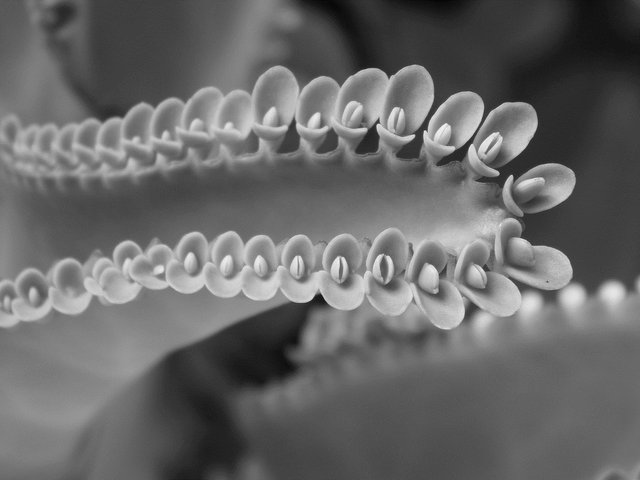 Hi Steemians, lovers of black and white photography:
Macro photography of a plant called "Bad Mother". Scientific name
Kalanchoe schizophylla
.

A peculiar characteristic in the Kalanchoe sp is its tendency to produce progeny at the edge of the leaves. These offspring are exactly the equal of the mother plant. When they fall to the ground they develop as new individuals capable of reproducing asexually in the same way. This particularity makes the plant ensure the permanence of its species.
OPTIONS
Camera: Nikon
Focal length: 37.1mm
f/ 5.4 Obt Speed 1/100s ISO 125
Natural Light
This is my participation in the Photography/ArtWork contest managed by @axeman.
The rules for participation are HERE.
I hope you enjoy it. Welcome your comments.
Infinite greetings!

Hola Steemians:
Macro Fotografía de una planta llamada "Mala Madre". Nombre científico
Kalanchoe schizophylla
.

Una característica peculiar en las Kalanchoe sp es su tendencia a producir hijos en el borde de las hojas. Estos hijos son exactamente iguales a la planta madre. Al caer a la tierra se desarrollan como nuevos individuos capaces de reproducirse asexualmente de la misma manera. Esta particularidad hace que la planta asegure la permanencia de su especie.
OPCIONES
Cámara: Nikon
Longitud Focal: 37.1mm
f/ 5.4 Veloc Obt 1/100s ASA 125
Luz Natural
Esta es mi participación en el concurso de Fotografía/ArtWork que gestiona @axeman.
Las reglas para participar están AQUÍ.
Espero que les guste. Bienvenidos sus comentarios.
¡Saludos infinitos!

Photo @marcybetancourt
© 2020, Marcy Betancourt. All rights reserved