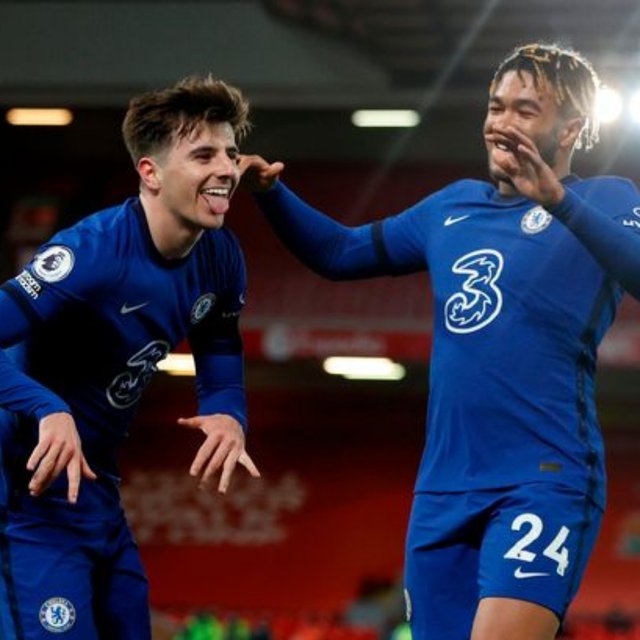 Chelsea outclassed Liverpool at the Anfield Stadium and beat them 1-0 in the English Premier league game round 27, after the Victory Chelsea moved to 4th position while Liverpool descend from 6th to 7th after the defeat. Mason Mount scored a brilliant goal for Chelsea that earned them the three points, he has been one of Chelsea outstanding players since the beginning of the season, he is a young player that has the ability to change games, sometimes he will live up to his dream as he hoped to be like the Chelsea Legend Frank Lampard. a very good performance from Reece James and Andreas Christensen and also the captain Azpilicueta, though it was a big collective efforts towards the victory. Chelsea are now unbeaten in 10 games while Liverpool has lost 5 of their last 6 matches.
Chelsea dominated the game through the match and it shows that it's a new era at the Stamford Bridge, Chelsea have now recorded 7 clean sheets in their last 10 games since Thomas Tuchel took over the job. some of Chelsea player who could make the match much fun are out because of a reason stated by the coach, he stated that he started the players that has enough speed to play with Liverpool because they are a team with attacking game and using player with less speed will just kill the game. that's the reason why Callum Hudson-Odoi, Marcos Alonso, Olivier Giroud are not in the game.
Tuchel has given shown he is a man for this job and there is assurance he will make the top four and challenge for the title seems impossible because its too late as there is fewer match to conclude the English Premier league, and he added that next season will be fun as Chelsea will challenge for the title as they last won the title 3 years ago but next season will be different.
the Victory gave Chelsea more chances for the top four as they will be playing Everton in their next game on Monday, though Everton are still having an outstanding game which could give them more hope of coming back to the top four but if Chelsea could beat them in their next game, Everton chances of making it to top four will be thin.
[WhereIn Android] (http://www.wherein.io)