Good day steemians. Hope you're doing well today?
I am joining the Steemit 100daysofsteem Day 60 Monday Challenge, organized by @steemitblog, and I will be telling you about My local health service.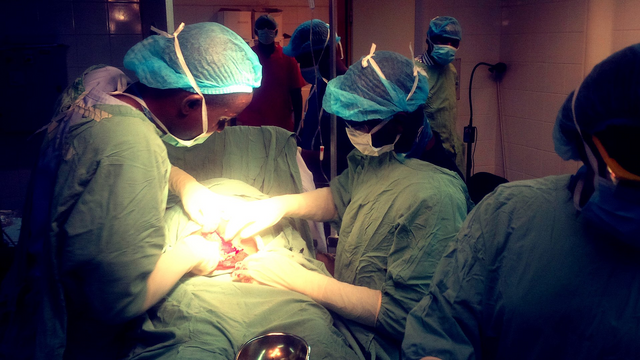 source
---
I am a Nigerian, and I reside in Abeokuta, the capital city of Ogun State. Here, we have several healthcare centers, both public and private facilities. In the categories of government owned health facilities, we have the Federal Medical Centre, Idi Aba, which is owned by the Federal Government, Likewise, we have the General Hospital, Ijaiye, owned by the state government. We also have Primary Health Centres under the leadership of local government, and they take care of simple health issues like family planning, slight headache, malaria symptoms, immunization, and so on. They however refer difficult cases to the General hospital.
Private-owned health facilities however are well spread across the state. some of these include clinics, physiotherapy centres, laboratories, dental clinics, optometry clinics, and so on. Due to the weight of the investment that goes into setting up a standard health facility like these, only few of the private facilities are big enough to compete with the government-owned facilities. Some of these are the Sacred Hearts Hospital, Lantoro, owned by the Catholic mission. Others are Mercy hospital, and First Alpha hospital, both in Abeokuta.
A general feature of government-owned health facilities around me is that they attract lots of patients, because they are largely more affordable, because government has largely subsidized payments. These hospitals area also perceived to have more qualified personnel and equipment that private-owned facilities.
These factors make most people to opt for public hospitals, especially as majority cannot afford the cost of treatment in private hospitals. This makes the crowd in public hospitals to be massive. In private hospitals however, there are fewer patients to attend to, and each person is able to receive adequate care, and close monitoring from the medical team.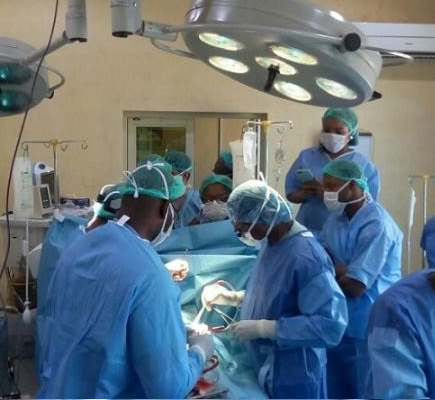 A Team of Medical Staff During a Surgery in Sacred Hearts Hospital, Abeokuta.
source
Personally, I use the Federal Medical Centre, Abeokuta, due to its nearness to my place of residence, and the quality of staff, and medical equipment in the hospital. The hospital is less than 1Km from my house, and take only about 3 minutes to get there. It is the largest hospital in town, and has all the major aspects of medical practice. I have been to the hospital with some patients who used the services of the radiology department for scan and x-rays, as well as an Electrocardiogram test and other consultations in the neurology department. the cost of these tests are quite affordable because it is a government-owned facility.
The hospital has an Health insurance clinic that attends to patients who are registered under the National Health Insurance Scheme (NHIS) and other accredited Health insurance schemes. These people are able to get free consultation treatment for a selected category of ailments, and they have the privilege of paying only 10% of the total cost of drugs prescribed. This is the part of the clinic that I use, and my insurance also covers up to five other family members.
The hospital has an executive ward for high ranking citizens, and top officials of the hospital to receive intensive care when ill. A look at the website of the hospital, fmcabeokuta.net shows that it has 13 wards, 28 clinics, 56 medical consultants, and over 250 bed-spaces.

Chemical Pathology Unit of FMC Abeokuta
source
In dealing with the covid-19 pandemic, the hospital postponed and rescheduled all previous appointments, and fumigated the hospital premises. They also began to require incoming patients who are not on emergency cases to make a call and book an appointment before coming to the hospital, a move which is aimed at reducing the crowd in the hospital, and this has worked to a large extent. On about two occasions, covid-19 positive cases were reported in the hospital premises, In each case, the required disinfection were done and the virus was stopped from spreading.
I have a couple of friends who are in the medical field as doctors and nurses, even my neighbor is a nursing practitioner in FMC. My wife and I often get a first opinion from her before going to the hospital, especially during the heat of the covid-19 pandemic. She would often inform us if it is safe to go to the clinic for routine check up or we should wait till a later time.
That's all for my local health service. Thank you for reading, I also appreciate your contributions.