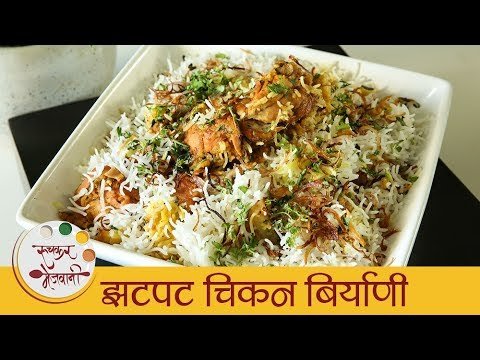 ---
Learn how to make Pressure Cooker Chicken Biryani at home with Chef Smita on Ruchkar Mejwani.
Making a Chicken Biryani is a task no one wants, but Ruchkar Mejwani Chef Smita found a way to reduce your task to a minimum. Pressure Cooker Chicken Biryani a quick and smooth way to make the Chicken Biryani with the taste & flavour remains the same.
Learn how to make Chicken biryani in a pressure cooker at home for your family & friends.
Do watch the video to know more about Pressure Cooker Chicken Biryani! Don't forget to Like, Share, Comment and Subscribe for instant updates
#झटपटचिकनबिर्याणी#PressureCookerChickenBiryani#RuchkarMejwani
Latest Recipes -
दोन प्रकारचे सरबत - Summer Special Recipe -

आगरी सुकट - Aagri Sukat - Dry Shrimps Recipe In Marathi -

कोळंबीचे लोणचे - Kolambiche Lonche -
Subscribe & Stay Tuned: http://bit.ly/SubscribeToRuchkarMejwani
Ingredients:
1 kg Chicken
1 tbsp Ginger Paste
1 tbsp Garlic Paste
1 tbsp Biryani Masala
1 tsp Shahi Garam Masala
1/2 tsp Turmeric Powder
2 tbsp Red Chilli Powder
1 tsp Cumin Seeds Powder
1 tbsp Coriander Seeds Powder
Salt
2 cup Fried Onions
2 cup Yoghurt
1/4 cup Mint Leaves
1/2 cup Coriander Leaves
4 tbsp Oil
1 tbsp Ghee
2 Bay leaf
1 Cinnamon
1/4 cup Caraway
5 Green Chillies (slit)
3 Potatoes (boiled)
600 gms Basmati Rice (half cooked)
1 tsp Saffron Milk
Methods: Let's begin with taking the Chicken in the bowl in which add Ginger Paste, Garlic Paste, Biryani Masala, Garam Masala, Turmeric Powder, Red Chilli Powder, Cumin Seeds Powder, Coriander Seeds Powder, Salt, Fried Onions, Yoghurt, Mint Leaves, Coriander Leaves. Mix them all together properly and let it marinate for 2 hours in the refrigerator. After 2 hours lets start to pressure the cook the biryani, first add Oil & Ghee, after ghee is melted add Bay leaf, Cinnamon, Caraway, Green Chillies (slit), saute for few moments then add your marinated Chicken in the pressure cooker. Mix them all together and saute for 10 minutes, after that close the lid of the cooker for 10 minutes. Let it cool down then add Potatoes (boiled), Basmati Rice (half cooked), On top of the rice add Ghee, Saffron Milk, Mint Leaves, Coriander Leaves, Fried Onions. Then add remaining Rice on top of the ingredients, again repeat all the ingredients as before on top of the rice. Now pressure cook this for 20 to 25 minutes on medium flame. After 20 to 25 minutes your Pressure Cooker Biryani is ready to be served.
Host: Smita Deo
Director: Vishal Chavan
Camera: Kavaldeep Singh Jangwal, Bhushan Shivangekar, Abhishek Deshmukh, Shirin Shinde
Editor: Ravi Varma
Copyrights: Rajshri Entertainment Pvt Ltd
For Facebook Updates: https://www.facebook.com/RuchkarMejwani
Twitter: https://www.twitter.com/RuchkarMejwani
Join us on G+ : https://plus.google.com/u/0/108499039...
---
▶️ DTube