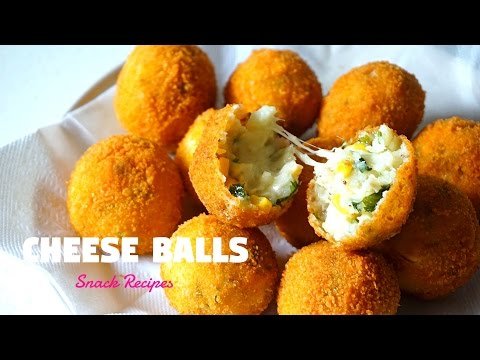 ---
For the complete written Cheese Balls Recipe click here: http://bit.ly/2p2H0BF
Assalam 'o' Alaykum everyone! Hope you're all doing well.
Today I'm sharing with you this Cheese Balls recipe which is perfect to serve as snack. Your kids will definitely love these!
My first time making these didn't really turned out how I wanted them to be. Don't get me wrong they tasted amazing the only problem was that the balls didn't hold up their shape. Once it was time of frying the balls will always crack open! Not really a fun experience!
So, I thought maybe the cause of the problem was the boiled potato being not yet completely cool. Which then caused them to break while frying!
So, I tried making this another time! I didn't give up there!
The second time I tried making these again I made sure I added cornflour to the potato mixture and freeze them in the freezer for at least 1 hour before frying.
Luckily this time they didn't break! YAY! Success!
They were amazing and my sister ate the most of them! -.-
If you want to know how to make these delicious Cheese Balls continue watching the video.
If you liked this video please like, comment and subscribe.
♥ Spread the love and share this video! ♥
♦♦♦♦♦♦♦♦♦♦♦♦♦♦♦♦♦♦♦
➽ CONNECT WITH ME
blog: https://www.hungryforgoodies.com
instagram: @hungryforgoodies
facebook: http://www.facebook.com/hungryforgoodies
➽ PRODUCTS THAT I LOVE
Spice Blender: https://amzn.to/2qhnELw
Duronic Airfryer: http://amzn.to/2FSH4x0
➽ FILMING GADGETS
My camera: http://amzn.to/2plY602
My lens: http://amzn.to/2GIOCnn
My ring light: http://amzn.to/2polKsX
➽ MORE RECIPES YOU MAY LIKE
SNACKS
Rice Pakora:
Chicken Popcorn:
Fried chicken:
Cheeseburger:
Egg kabab:
Chicken Shawarma:
Fish Batter recipe:
Chicken Veggie Spring Rolls:
Chicken 65:
Chicken Wings:
No Bake Cheesecake:
Thai Style Sweet Chilli Sauce:
Siopao Sauce:
Punjabi Sweet Lassi:
3 Refreshing Drinks:
♦♦♦♦♦♦♦♦♦♦♦♦♦♦♦♦♦♦♦
DISCLAIMER: This video and description contains affiliate links, which means that if you click on one of the product links, I'll receive a small commission. This helps support the channel and allows me to continue to make videos like this. Thank you for the support!
♦♦♦♦♦♦♦♦♦♦♦♦♦♦♦♦♦♦♦
➽ MUSIC
Morning Sun - Free Happy Background Music by Nicolai Heidlas Music is licensed under a Creative Commons License.
♦♦♦♦♦♦♦♦♦♦♦♦♦♦♦♦♦♦♦
Hi, I'm a 1/2 pakistani and 1/2 filipina girl who enjoys cooking! I created this channel to share most of my family recipes and other which I've discovered and learned throughout these years. Everything I post is halal easy and tasty food. I mainly concentrate in sharing Pakistani/Indian and Filipino recipes.
Please feel free to look around ♥♥♥
---
▶️ DTube