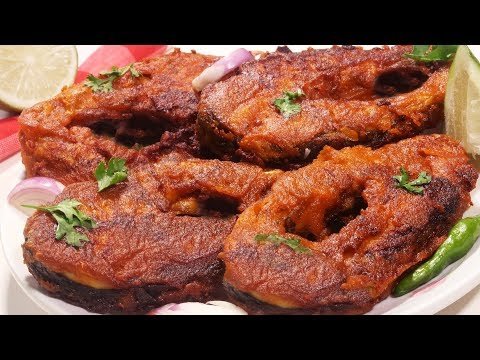 ---
Click here to subscribe my channel: https://goo.gl/NaEDzD
This is an amazing Crispy Fish Fry Recipe which is very easy and delicious. This fish fry also can be called as spicy or masala fish fry.
Just follow the cooking process and make the simple fish fry to enjoy with friends and family.
Ingredients:
---
Rohu Fish 300 gm (You can try with any big size fish)
Garlic Cloves 20-25 Pcs
Ginger 1/2 TSP
Green Chili 6 Pcs (You can adjust the qty)
Green Coriander 3 TBSP
Lemon juice 1 TBSP
Salt as per taste
Turmeric Powder 1/2 TSP + 1/4 TSP
Red Chili Powder 1 TSP (You can adjust the qty)
Coriander Powder 1 TSP
Black pepper 1/2 TSP
Yoghurt 1/8 Cup
Maida 1/4 Cup
Corn flour 1/8 cup
Food Color 1 Pinch
Milk 1/2 Cup
Oil for fry
Method:
---
Punch fish pieces with toothpicks

Make a paste with garlic cloves , ginger, green chili, green coriander, lemon juice.

To marinate fish pieces make a paste . Take salt , Turmeric Powder, Red Chili Powder ,Coriander Powder,Black pepper ,Yoghurt and the paste which already made.
-Keep the marinated fish in refrigerator for 1 hour.
To make the fish crispy and spicy make a thicker paste with Maida, Corn flour, Turmeric Powder , Food color (optional) to make attractive color , milk .

Add milk gradually to make a thicker paste .

Now coat marinated fish with the paste and fry each side for 5-6 min in low flame. If you think need to keep more than the time to fully fry , please do it.
Now Delicious Spicy/Masala fish fry is ready to serve and just enjoy this simple recipe with your near and dear one.
Don't forget to subscribe my channel and share this recipe video with your near and dear ones.
Follow us:
Facebook page : https://www.facebook.com/BD-Food-5432...
Google Plus : https://plus.google.com/b/11021261588...
Blogger : https://bdfood1.blogspot.com/
---
▶️ DTube