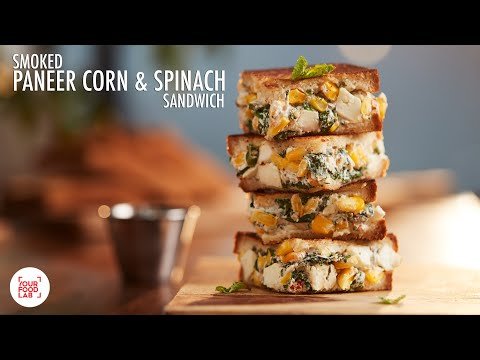 ---
Written Recipe for Smoked paneer corn & spinach sandwich
Prep time: 10 mins
Cooking time: 10 mins
Serves: 10-12 sandwiches
Ingredients:
• Sweet Corn kernels 1 cup
• Spinach 1 big bunch
• Paneer ½ cup (diced)
• Green chillies 2-3 nos. (chopped)
• Fresh mint leaves 1 tbsp (chopped)
• Fresh coriander leaves 1 tbsp (chopped)
• Red chilli flakes 1 tsp
• Black pepper powder & Salt to taste
• Hung curd ½ cup
• Live charcoal + ghee
• Whole wheat sandwich bread as required
• Butter for toasting
Methods:
• Set a water to boil, boil the sweet corn kernels for 2-3 minutes, take it out from the boiling water and keep aside.
• In the same boiling water blanch the spinach by simply dipping the spinach leaves in the boiling water for 20 seconds, take it out from the water and immediately transfer it into ice cold water to retain the bright green colour, strain out the water and keep the spinach aside.
• Take a mixing bowl, add the boiled corn, blanched spinach, paneer, green chillies, freshy chopped coriander and mint leaves, hung curd salt & pepper to taste and some red chilli flakes and mix well, keep the mixture aside to be used as a filling in the sandwich.
• Place a small bowl and put the live charcoal, pour the ghee over the coal, cover and smoke for 2-3 minutes to impart the smoky flavour.
• Take a whole wheat sandwich bread slice, you can take any sandwich bread slices that is available in your kitchen or your nearby grocery store, further, take a spoonful of the mixture filling or as required, and apply evenly over the bread slice, close it another bread slice to make a sandwich.
• Set a tawa on medium heat, spread butter on the sandwich slice evenly and toast it until crisp and golden brown. Repeat the step and toast on other side as well.
• Make as many sandwiches as you would wish to eat, your smoked paneer sandwich is ready to be served.
• Cut the sandwich in squares or triangles, as you wish and serve hot with tomato ketchup or any dip of your choice.
The Music I use in All my videos - https://bit.ly/3g4OjmW
(Best for independent creators)
Follow us on all platforms:
Facebook - https://goo.gl/rxrqsq
Instagram - https://goo.gl/rK6wFS
Twitter - https://goo.gl/lDfrrQ
Follow my personal handles here: (Chef Sanjyot Keer)
Facebook - https://goo.gl/8zcF6N
Instagram - https://goo.gl/ayTNLP
---
▶️ DTube