Hello steemians, I hope everyone is doing great.
As you all know, there is an ongoing contest from my side to support #DiaryDoctor campaign. My aim for this Contest was to encourage newcomers on steemit. So that's why I opened this Contest Globally a few days ago. I supposed to get some interested participants, but that didn't change much for me. So now I'm gonna make some Major Changes in Contest- Helping Hand.
To make this Contest a little easier for everyone I have made some Major Changes in rules so that more and more people can now participate in this Contest.
---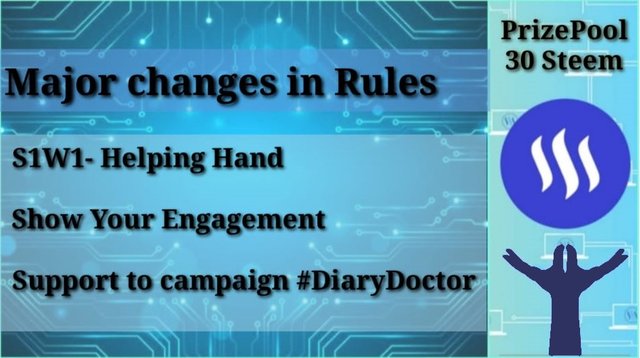 ---
Rules for the Contest
Upvote and Resteem this post.
You Compilation post should start with "My Contribution in Helping Hand Contest".
Comment should be on diary post under the rules of #DiaryDoctor.
Create a Separate post with a compilation of your comments.
Must use a tag #S1W1 in first five tags of your compilation post.
There is a minimum limit of 5 and maximum of 10 comments required in your compilation post.
Comments should be meaningful and not repetitive.
Only one compilation post per person.
This Contest will end on 25 September 2020.
Please approve your participation in the comments below. (Mandatory)
---
Important notes
Now you can comment on anyone's diary post—all you need to follow DiaryDoctor's rules. Also to make this Contest easier for everyone I have lifted some restrictions so please read all the above rules carefully. All you need to make one comment a day if you start from today.
If anyone wants to translate this contest into their regional language, feel free to do so.
---
Distribution of Updated Prizes
There are no changes in the prize pool of this Contest. There will be five winners at the end of the competition and receive the prize as follows -
| Ranking | Prizes |
| --- | --- |
| 1st | 10 Steem |
| 2nd | 8 Steem |
| 3rd | 6 Steem |
| 4th | 4 Steem |
| 5th | 2 Steem |
Depending upon the number of participants & response, I will create a similar contest every week with greater rewards. Also if anyone wants to sponsor any additional amount in this prize pool, then you are welcome. If I get a sponsor, the amount will be distributed equally to all participants.
---
Result Date
Result Date will be announced anytime after 25 September. Which depends entirely on the number of participants as I need all the manual work to check every post.
---
Future Plans
I have created a Magical 500 Words community. My aim for creating this community is to help one for all. The primary function of this community to build a habit of daily writing on steemit. As of now, this community is work-in-progress. I want to invite everyone to join this community. I'll organise my upcoming Global contests in Magical 500 Words community and Indian Region contest in Best of India. My next Contest will be there on 23rd or 24th September.
---
Q&A
---
Q1- Why did you organise this Contest if there is already #DiaryDoctor campaign?
A- This Contest is organised to support DiaryDoctor campaign. If you check you will see that not many people are commentating under DiaryDoctor campaign.
---
Q2- How will it encourage participants to comment?
A- If they follow all the rules, the commenter is likely to get a 2–10 per cent reward from @steemcurator01. In addition, they have a chance to earn prizes from the prize pool of this Contest by posting just one compilation post.
---
Q3-Why there are only a few participants in this Contest so far?
A- There might be various reasons behind this. But as far as I know, the reason behind this is lack of reach. This Contest has reached only to Indian Community so far.
---
Q4- How can this Contest reach more people on steemit?
A- As this contest is already opened Globally. So resteem by maximum people can help it reach everyone.
---
Thank you.

For some support from CR's:-
Argentina (@fendit, @belenguerra),
Bangladesh (@tarpan, @toufiq777),
Cameroon (@njiatanga),
Ghana (@oppongk),
India (@rishabh99946, @neerajkr03, @sapwood),
Indonesia (@anroja, @ernaerningsih, @radjasalman),
Japan (@cryptokannon),
New Zealand (@kiwiscanfly),
Nigeria (@beautychicks, @focusnow),
Pakistan (@rashid001),
Russia (@knopka145),
Sri Lanka (@randulakoralage, @besticofinder),
Uganda (@yohan2on),
Ukraine (@alexmove, @olesia, @antorv),
Venezuela (@anasuleidy, @mariita52, @tocho2, @edlili24),
Cc:-
@steemitblog,
@steemcurator01,
@steemcurator02,
@steemcurator07,
@stephenkendal,
@shortsegments