---
---
Einige Tage sind bereits vergangen, und was man sieht, ist Trauer und Betroffenheit, Menschen, die ihre Häuser und sogar Familienangehörige verloren haben - so launisch ist die Natur. Die schweren Regenfälle, die in der vergangenen Woche in der Region niedergingen, haben mindestens 193 Menschen das Leben gekostet, während die Gefahr von Überschwemmungen im Osten und Süden Deutschlands wächst und im am stärksten betroffenen Kreis Ahrweiler im Westen von Rheinland-Pfalz latent vorhanden ist.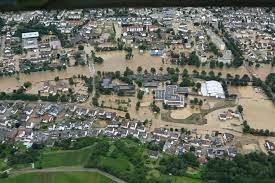 Fuente de latercera.com/
Eine sehr kuriose Tatsache Meteorologen sagten, dass einige Gebiete vor den Überschwemmungen zwei Monate lang Regen in zwei Tagen erhalten hatten, wobei in Teilen Westdeutschlands mehr als 150 Liter pro Quadratmeter innerhalb von 24 Stunden fielen und dies die Flüsse erheblich beeinträchtigte, was die Gefahr erhöhte. Man muss bis 2001 zurückgehen, um Überschwemmungen dieses Kalibers in Europa zu finden. Und in Deutschland sprechen wir von einem Hochwasser, das es seit Jahrhunderten nicht mehr gegeben hat, weil sich die Flüsse durch die Regenfälle ihren natürlichen Lauf suchen.
Wir versuchen, den Anruf aufrechtzuerhalten und ihre Familien anzurufen, um zu sehen, ob es ihnen gut geht. Wir hoffen, dass dies alles vorübergeht und wir eine weitere Erfahrung mit der Regenzeit machen können und versuchen, eine Lösung zu finden, damit dies in Zukunft nicht wieder passiert.
---
---
---
---
we continue reporting on the catastrophe
several days have already passed and what you see is a pain and sadness people who have lost their homes and even relatives and so is the capricious nature for the heavy rains that fell in the region last week, have left at least 193 people dead, while the danger of flooding in the east and south of Germany is growing and is latent to happen in the most affected district of Ahrweiler, in the western state of Rhineland-Palatinate.
A very curious fact Meteorologists said that some areas had received two months of rain in two days before the floods, with more than 150 liters per square meter falling during 24 hours in parts of western Germany and that had considerably affected the rivers making it more dangerous It is a very flat terrain, with very little gradient, in which there are rivers with many meanders and, literally, the rivers have sought their place. You have to go back to 2001 to find floods of this caliber in Europe. And in Germany, we are talking about a flood that has not occurred for centuries because the rivers are searching for their natural course through rainfall.
We are trying to keep up the call and call their families and see if they are well. We hope that all this will pass and we can have one more experience with the subject of the rains and try to find a solution so that this does not happen again in the future.
---
---
seguimos informando sobre la catástrofe
ya a pasado varios día y lo que se ves es un dolor y tristeza personas que han perdido su casa e incluso familiares y así es la naturaleza de caprichosa por las fuertes lluvias que cayeron en la región la semana pasada, han dejado al menos 193 personas muertas, mientras crece el peligro de desbordamientos en el este y el sur alemán y esta latente a que suceded En el distrito más afectado de Ahrweiler, en el estado occidental de Renania-Palatinado
Un dato muy curioso Los meteorólogos dijeron que algunas áreas habían recibido dos meses de lluvia en dos días antes de las inundaciones, con más de 150 litros por metro cuadrado cayendo durante 24 horas en partes del oeste de Alemania y eso había afectado considerable mente los ríos colocándolo mas peligroso Es un terreno muy llano, de muy poco desnivel, en el que hay ríos con muchos meandros y, literalmente, los ríos han buscado su sitio. Hay que remontarse a 2001 para encontrar inundaciones de este calibre en Europa. Y en Alemania, estamos hablando de una inundación que haga siglos que no se producía debido a que los ríos están buscando su cause natural atreves de las lluvias
trente de mantener la clama y llamar a sus familiares y ver si están bien esperemos que todo estos pase y se pueda tener una experiencia mas con el tema de la lluvias y trata de buscar solución para que estos no pase mas a futuro