It always interests me to read about the achievements and contributions of hundreds of exceptionally talented common man in various fields as their stories come to mainstream media with several awards of National repute.
One of these prestigious awards is Bal Shakti Award which recognizes children of exceptional abilities and outstanding talent or contribution to the society.
This year 49 children were conferred this award. But the one that became the talk of the town in Indian crypto community is a 16 year old face of Harshita Arora from Saharanpur (U.P.).
Harshita was awarded Bal Shakti Award for her exceptional talent and contribution in a wide range of field. One of these was her famous Crypto Price Tracker app that she launched about 2 years back.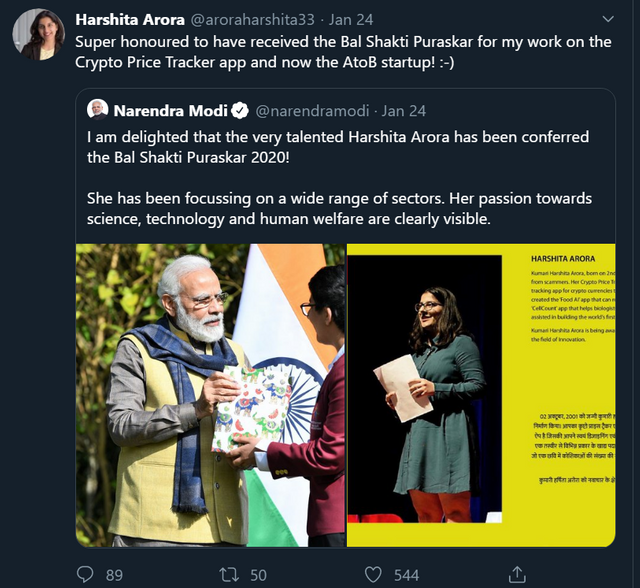 Her Crypto Price Tracker app was later acquired by Redwood City Ventures. According to her website, she also co-built a food recognition app.
But Indian crypto community is looking at it as a stange paradox: how a talented kid is being recognised for her innovation in cryptocurrency field while Government is against cryptocurrencies per se!
Well, beauty of India lies in its chaos ...that's what life is about!
Happy Republic Day to all! 😊