These days, so many crypto exchanges have suddenly found interest in India. With biggies like Huobi, Binance, Okex and KuCoin setting up their shops in India, other crypto exchanges might have got that FOMO feeling by now.
Yesterday evening, I received several distracting updates like CEX.IO automatically upgrading my account with them. I had signed up with cex.io 2-3 years back when I was exploring different crypto exchanges but never ever used it. So I thought they were de-activating my account. But this was something in stark contrast of my intuition. Then got an email from Uphold tempting with 0% commissions, 0% Debit & Credit Card fee, 0% withdrawal charges etc.
Amidst this the news of Zebpay coming back to India drew all my attention. Not that I'm excited about it. But the first thought came to my mind was, "How dare they can come back!!!"
Well, Zebpay was the first and largest crypto exchanges in India. But when the RBI's crypto banking ban notification came into effect in 2018, it was also the first crypto exchange to flee India.
Not only Zebpay quit India suddenly but also left crypto community helpless. Moreover, the announcement & rules of shutting down of its business here was not fair to its customers. An unltra short notice was given to all users before shutting down and a high withdrawal fee was forced upon everyone to move out their funds with them. Being a market leader, it set a wrong precedence with questionable ethics. Who can forget that?
It were other smaller crpto exchanges that continued to innovate and legally fight the unjustified banking ban applied on crypto.
Now that Supreme Court hearing of the case is over and a formality of written submission of the counsel's arguments has to be done by tomorrow, before the Souprem Courts pronounce their judgement, Zebpay's news of return starts surfacing up.
With a new CEO, CMO, CSO or all new leadership, is it another way to entice the crypto community again? Why not with a different brand name then?
Given their history of being opportunistic and unethical, I'd like to know, Would you like to deal with Zebpay again?
Well, many people are currently saying that they won't ever have an account with Zebpay.
But the resistance could be temporary. Zebpay knows how to lure Indians.
It is coming up with several lucrative offers like passive crypto income, 0% trading fee on BTC/ETH pair, collaboration with Brave browser to earn BAT etc.
See how its new CEO wants to convince you all: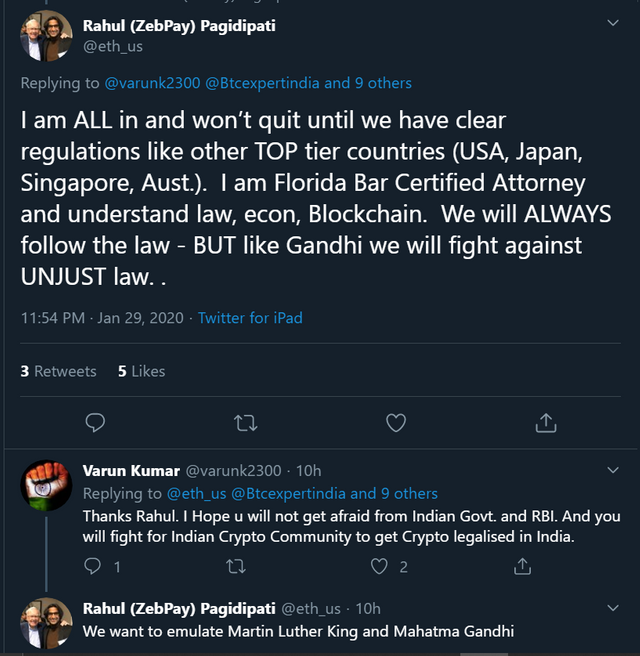 He also says that Warren Buffet is his good friend and he is trying to convince him to invest in Bitcoin.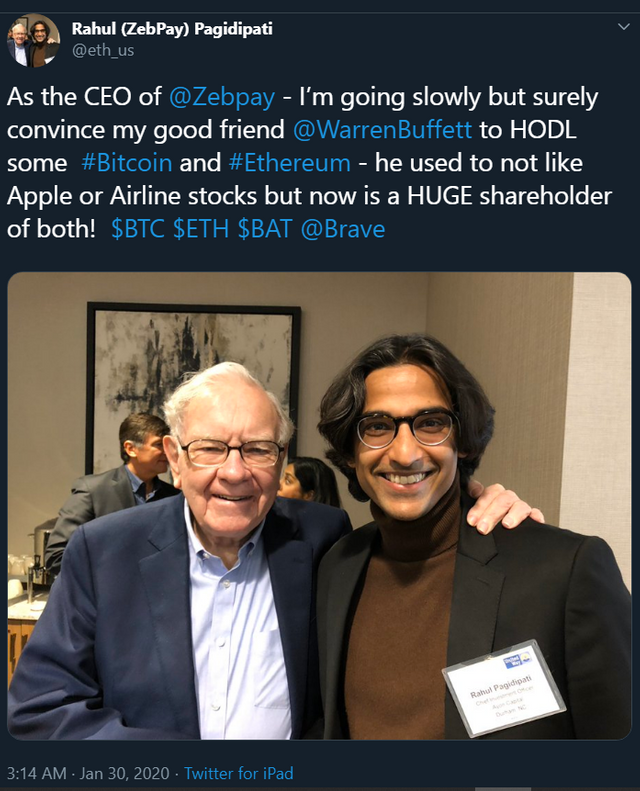 So would you get carried away again?
(Mind it, whatever you decide, you'll have to Pay from your own Zeb 😉)