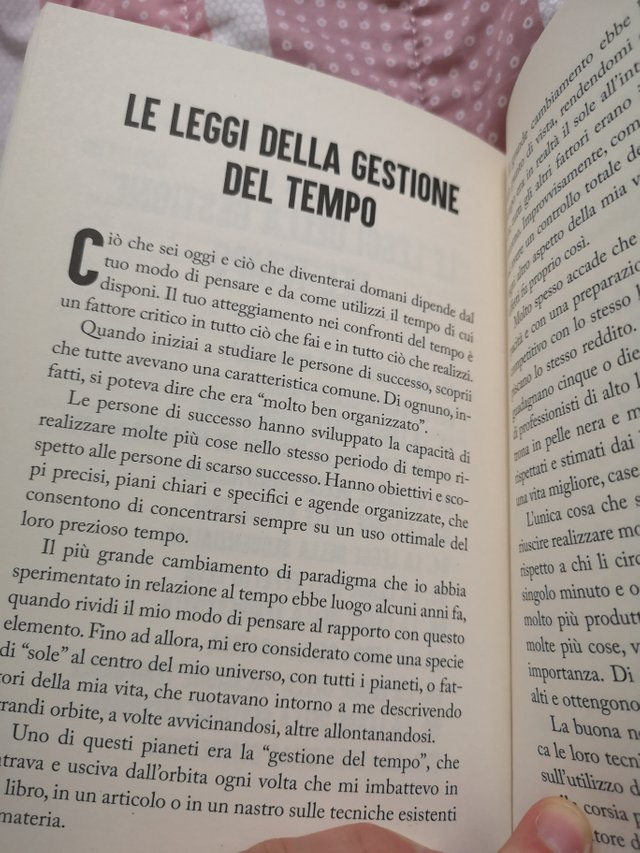 ITA 🇮🇹
---
Argomento molto critico in questo momento per me😅
La gestione del tempo è molto importante per potersi organizzare al meglio, essere più efficienti nelle attività da svolgere e nelle decisioni che dobbiamo prendere quotidianamente.
Ho letto sempre in questo libro,che le persone con maggior successo sanno gestire al meglio il proprio tempo, avendo molti compiti e decisioni importanti da prendere é fondamentale avere una buona autogestione.
In questo periodo ci sto provando anch'io, anche se devo ammettere che è difficile all'inizio riuscire a organizzare tutti gli impegni e avere un minimo di tempo per se e per le persone importanti.
Ma sto piano piano migliorando, sto eliminando tutte le distrazioni e le perdite di tempo dal telefono, TV ecc... Favorendo invece la lettura, gli hobby che mi portano a star bene e a sentirmi più soddisfatta.
Infatti ho già in lista un altro libro da comprare intitolato
"Riconquista il tuo tempo" di Andrea Giuliodori, nel quale spiega più nel dettaglio tale argomento.

ENG 🇬🇧 🇺🇸
---
Very critical topic at this time for me😅
Time management is very important to be able to better organize, be more efficient in the activities to be carried out and in the decisions we have to make every day.
I read in this book, that most successful people know how to best manage their time. having many important tasks and decisions to make is essential have good self-management.
In this period I'm trying too, although I have to admit that it's difficult at the beginning to be able to organize all the commitments and have a part of time for yourself and for important people.
I'm slowly improving, I'm eliminating all the distractions and wasted time from the phone, TV etc ...
Instead favoring reading, hobbies that lead me to feel good and feel more satisfied.
In fact, I already have another book on the list to buy, entitled "Reclaim your time" by Andrea Giuliodori, in which he explains this topic in more detail.



19151