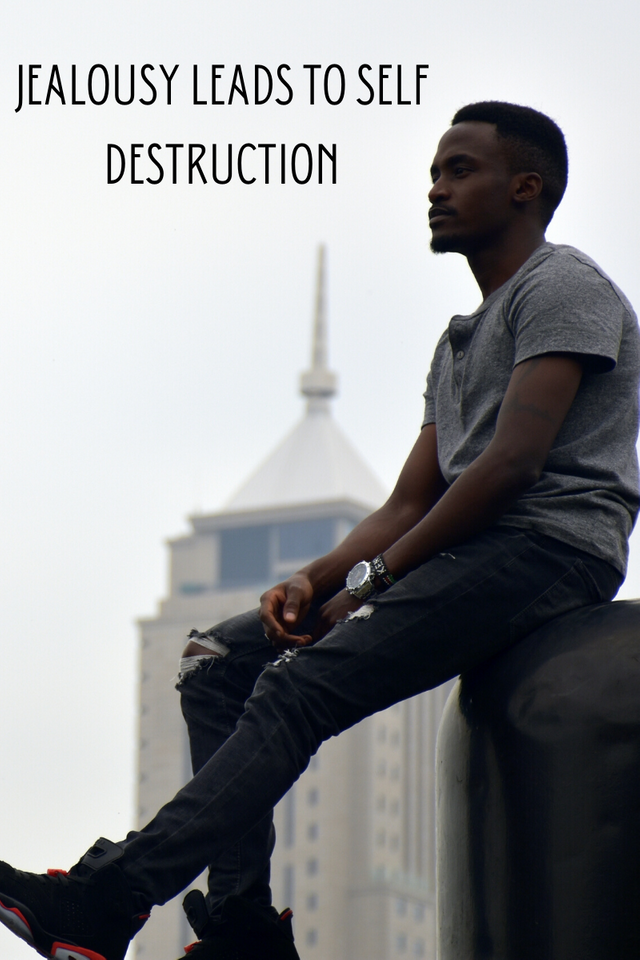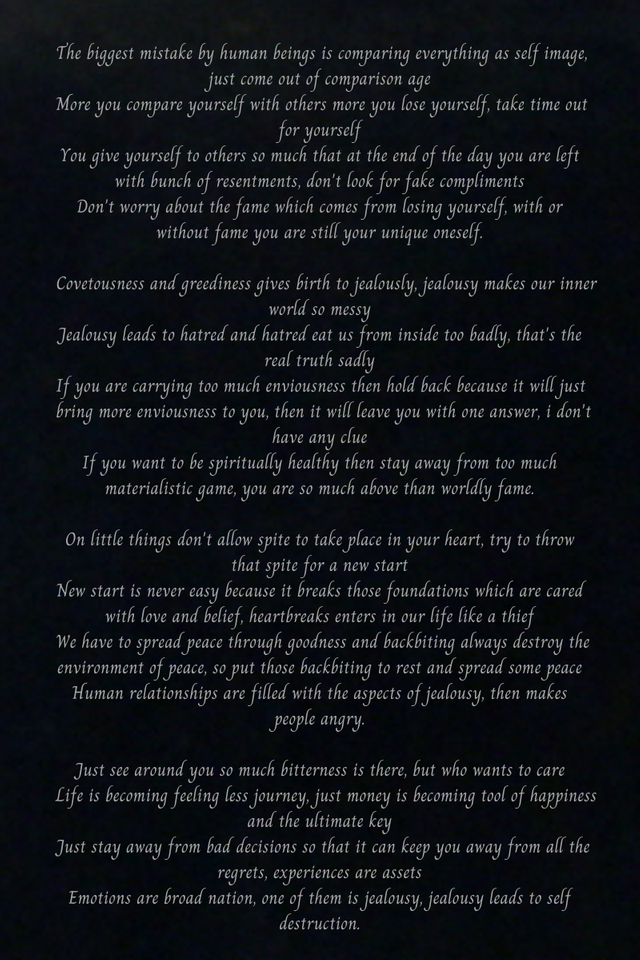 The biggest mistake by human beings is comparing everything as self image, just come out of comparison age
More you compare yourself with others more you lose yourself, take time out for yourself
You give yourself to others so much that at the end of the day you are left with bunch of resentments, don't look for fake compliments
Don't worry about the fame which comes from losing yourself, with or without fame you are still your unique oneself.
Covetousness and greediness gives birth to jealously, jealousy makes our inner world so messy
Jealousy leads to hatred and hatred eat us from inside too badly, that's the real truth sadly
If you are carrying too much enviousness then hold back because it will just bring more enviousness to you, then it will leave you with one answer, i don't have any clue
If you want to be spiritually healthy then stay away from too much materialistic game, you are so much above than worldly fame.
On little things don't allow spite to take place in your heart, try to throw that spite for a new start
New start is never easy because it breaks those foundations which are cared with love and belief, heartbreaks enters in our life like a thief
We have to spread peace through goodness and backbiting always destroy the environment of peace, so put those backbiting to rest and spread some peace
Human relationships are filled with the aspects of jealousy, then makes people angry.
Just see around you so much bitterness is there, but who wants to care
Life is becoming feeling less journey, just money is becoming tool of happiness and the ultimate key
Just stay away from bad decisions so that it can keep you away from all the regrets, experiences are assets
Emotions are broad nation, one of them is jealousy, jealousy leads to self destruction.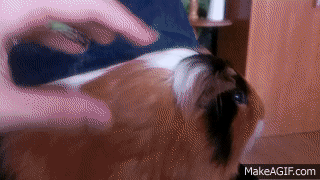 SOURCE
"This is my original and opinionated work".
(Pictures are edited and used from the Canva application).
Actually i was reading below blog post and after that this title clicked on my mind.
https://steempeak.com/hive-120078/@fenngen/why-are-we-so-jealous-how-can-we-free-ourselves-from-this-egoic-emotion
Thanks and regards,
Chiranjeevi Sarikonda
(Spread Love, Spread Kindness 🙂)
Stay Blessed