---
---
Well, MonsterMarket.io is alive already for a while, but initially was under other domain and during last weeks it got certainly a lot of improvements and new features, that becomes very worth to be used
Obviously, you can just buy cards and packs in-game or at peakmonsters (which everybody was doing for ages now), but lets see what's interesting in this new, but ambitious competitor interface
And first of all the name of domain, yeah! It is very easy to remember, isn't it? Definitely, good things are always simple ones...
(All images below clickable to expand)

Logging in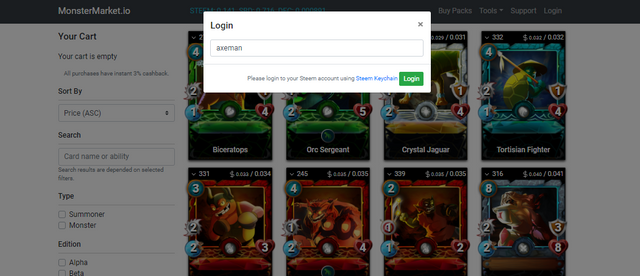 Only one option to login is using key-chain. Well, security first! And if you are not using key-chain yet, its really time to start, since it provides really very easy log-in every time

Header

---
a) Let's start from very simple, but very nice feature - current rates in USD of STEEM/SBD/DEC. Simple, but useful
---
b) Buy Packs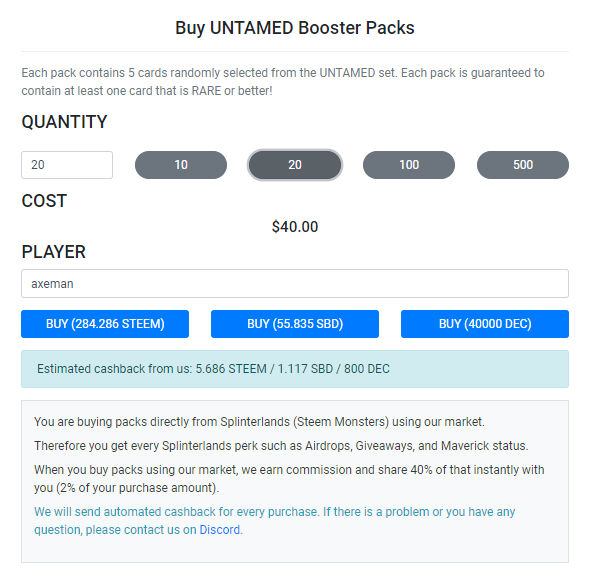 If you buy packs via MonsterMarket.io, You actually do it directly from Splinterlands, not losing possible airdrops, giveaways, etc (if such announced at Splinterlands). And very important - 2% cash back!
So as per above example while buying 20 packs for $40.00 value Your estimated cash back would be 5.686STEEM / 1.117 SBD / 800 DEC. Sounds not bad
---
c) Tools: Cost Estimator. Very easy and simple tool to estimate cost of a certain Splinter for every League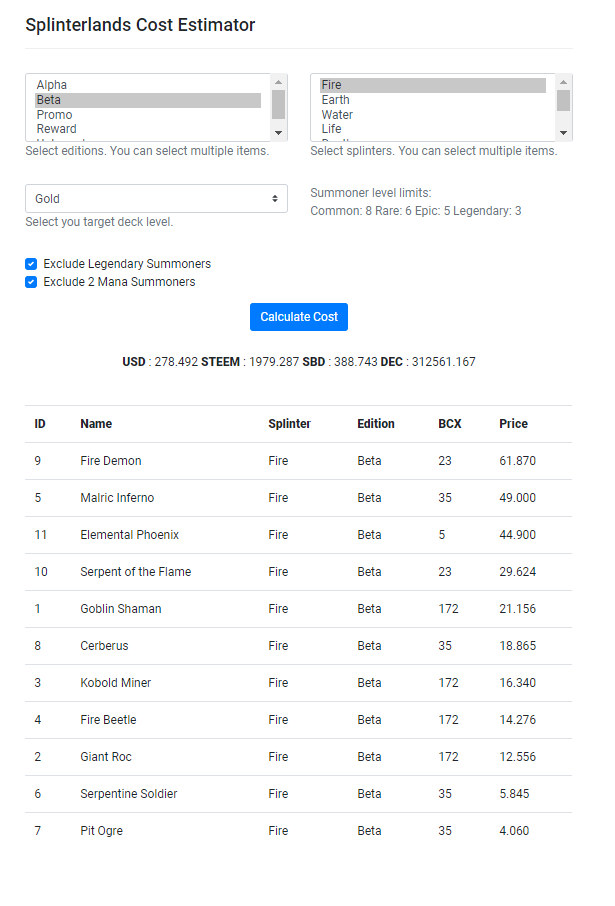 As example taken Fire Splinter for a Gold League (excluding Legendary Summoners and 2 Mana Summoners). We are getting a list of playable cards with BCX numbers and present cost of every card in USD and grand total in USD/STEEM/SBD/DEC. Amazingly easy
---
d) Tools: Analyze Openings
Here you can check Your last opening entering number of pack. Suppose system calculates last ones opened.
As You see my last 3 pack opening was complete disaster... just unbelievable bad with about 66% loss.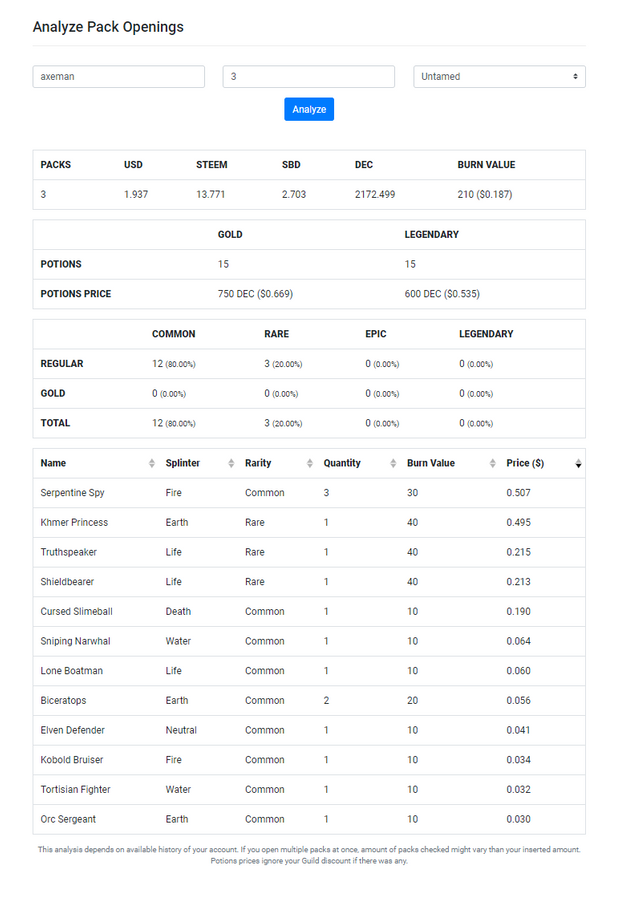 ---
e) Support brings you to Discord invitation to BDCommunity, where you can obviously ask any question or fix any issues, if such happens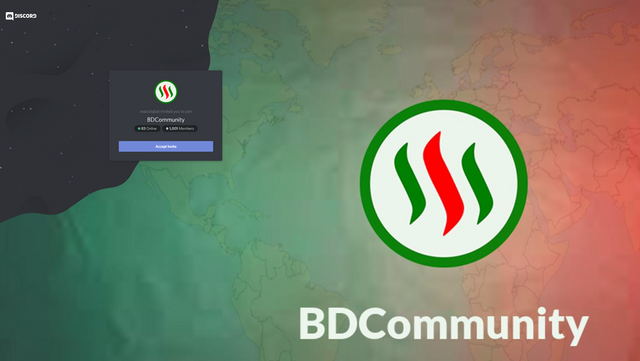 OK, now coming to the main part - the CARDS!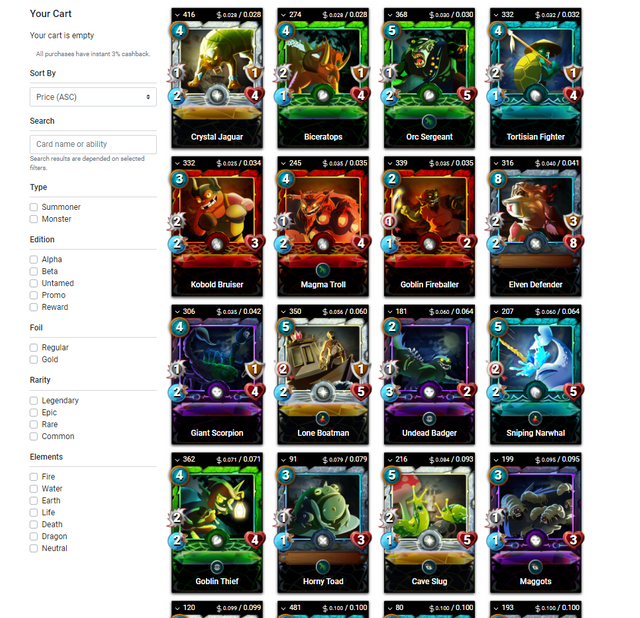 When first time logged you can see Untamed cards only. Counting Untamed are definitely most popular for trading now, this decision makes sense. While at any point you can sort cards as you wish by Type/Edition/Foil/Rarity/Elements

---
Also You can sort by Price (ASC) / Price (DESC) / Price BCX (ASC) / Price BCX (DESC)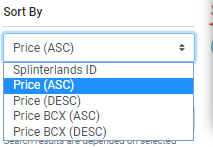 ---
The most interesting is Search ability by Card Name or Ability! That's actually the fun if you are not too much familiar this all cards, and especially with all those new Untamed or new Rewards Cards coming massively last weeks
So. let's say if we want to search by Healing ability, while starting typing Heal... into the box we getting at once all available variants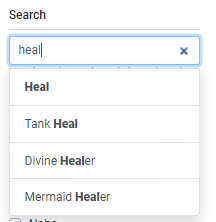 Remains only to chose the one we need and also to thick boxes of type of cards or edition. Lets say Tank Heal for Beta+Untamed and here we go with the list of all available currently on the market
---
And finally not to forget - YOU ARE GETTING 3% AUTOMATIC CASHBACK TO YOUR STEEM-ENGINE!!!

Just to see how things works on practice, let's buy something. So for today my task was try to get last GoldFoild Albatross to get my cards to level 6 combined with healing ability
---
Step 1. Searching for Albatross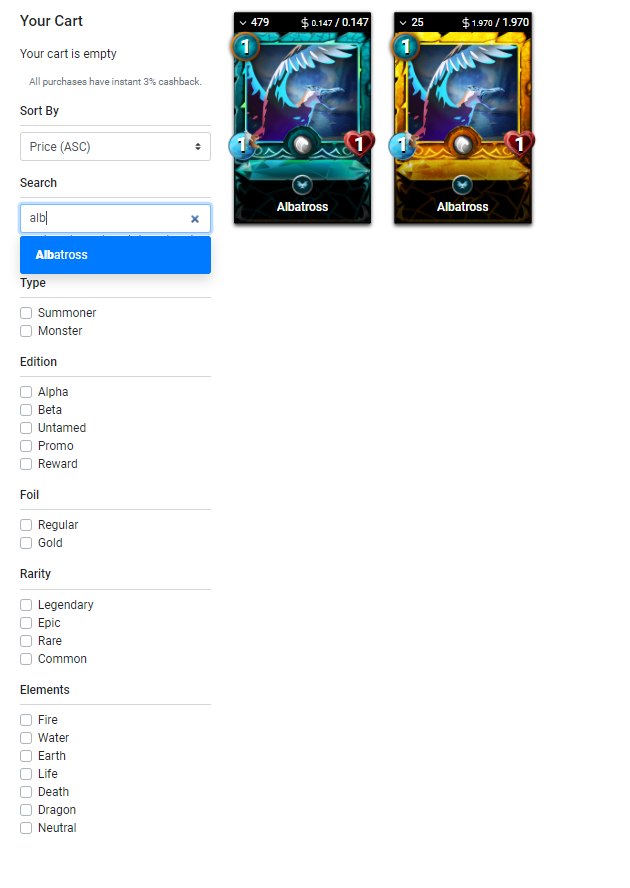 ---
Step 2. Checking available cards and putting to basket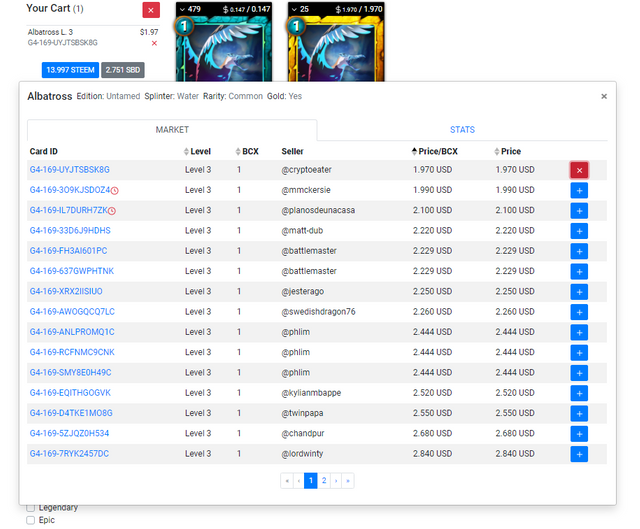 Step 3. Checking availability of funds (if enough). Visually very convenient to see available funds and to chose with which ones STEEM/SBD/DEC You actually want to pay. Then clicking chosen button to buy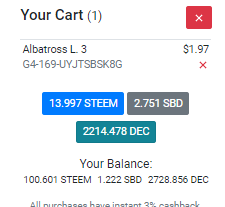 ---
Step 4. Confirm operation with Key-Chain

---
So here we go, 4 easy steps and card is safely landed....
Yeah, not to forget about cash-back! Let's go and see in S-E

No any delay and looks really not bad, counting the volume of cards which normally being bought. And the higher League level.. the more...

So, final thoughts are: very easy and not overloaded interface, very nice and useful searching features, cost estimator and 3% cash back. Could it be better? Well, decide Yourself. But I'm stick with MonsterMarket.io from now!
Guess the team further planning some more improvements and implementations, so lets stay tuned
Greetins from THE GUILD OF NEOXIAN and see you on a BATTLEFIELDS!!!