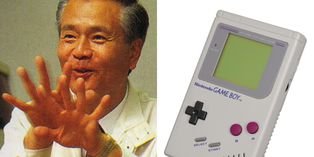 ---
Source
Speaking of games, it turns out that today the creator of Game Boy, and Game Watch, was born.
More information, in my post the following day.
September 10, 1941, Gunpei Yoko, was born in Tokyo, Japan.
After graduating from Doshisha University, he joined the Nintendo company, in 1965.
While on the Shinkansen, Gunpei Yoko, sees a businessman who is bored with design games like a calculator, and only pushes a button.
And since then he was inspired to make a game jam, and developed into a game watch
And this watch game was released in 1980.
Besides that, Gunpei Yoko also reaped success by making a game boy, in 1989.
And, the game boy then came with the boy pocket game series, and the boy metroid game.
And, in 1997, Gunpei Yoko died in a car accident.
And, in 2003, Gunpei Yoko was awarded the Award trophy from the Association of international game developers, and entered the list of 10 best creators in the media game threler version.
And, I still remember how it felt to use a game boy for the first time. And I remember that what I played was Pac man 😃
See you later.
By @midiagam