It's time I did a food post to add to my long list of random shitposts and almost a month in the UK with wife gave me the perfect opportunity to teach how to fake very authentic tasting Thai food using cheap packets of flavourings.
Travelling back to the UK from Thailand involves suitcases laden with packets of Thai sauce mixes. After only a couple of days, the wife is generally constipated, bloated and grumpier than her normal grumpy self.
I sick of fucking mash potatoes and sandwiches. Is shit.
She maligns in her strong southern Thai accent that has a remarkable command of the nuances of English expletives if not basic verb conjugations and third-person, singular neuter pronouns, and so poor old Nathen, who is trying his best to relive his early childhood and enjoying allowing his 80-year-old mother to slave away in the kitchen creating all manner of pies, puddings and pastries for his trip down memory lane, has to get his lazy arse up from the sofa and an exciting episode of 'The Chase' to pander to his wife's culinary desires.
One of the most ubiquitous dishes in Thailand is Tom Yum Koong, a spicy soup with prawns, or shrimps. Tom Yum Goong, is the same dish with Chicken.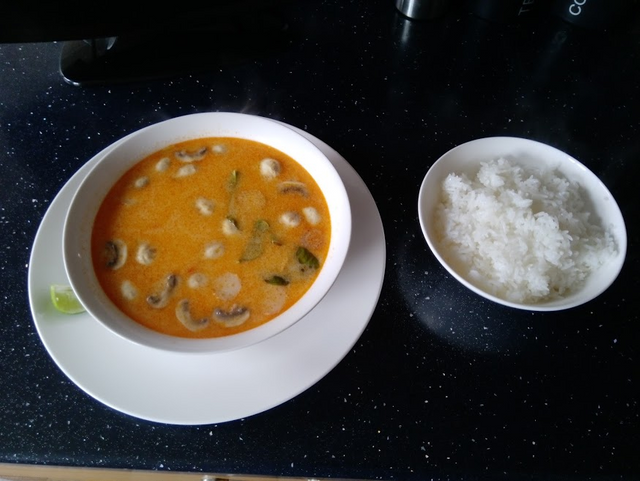 Now like western supermarkets that have aisles full of cook-in-sauces and sachets of flavourings, so do Thai supermarkets and like in the UK, the food fascists of Thailand look down upon these as being too simple and lazy alternatives to creating the equivalent dish properly using fresh ingredients, locally sourced and grown in pesticide-free, organic pig shit. As for using a microwave for preparing Thai food......ferangs have been given life sentences in the Bangkok Hilton for less.
Then we start on the rice. Rice! That amazingly delicious and nutritious grain that gets processed to remove all traces goodness and is then boiled to death just to make sure it has the nutritional value of a rock. For the majority of Thais, it has to be homegrown Jasmine, but for Nathen, who doesn't have the time or patience to fanny around with pans of boiling hot water and atomic time clock enabled measuring devices to get it exactly right, its got to be microwave! Don't tell the mother-in-law.
It has taken six trips to the UK and every brand of microwave rice in existence to find one the wife actually likes and of course, it happens to be the most difficult one to find a regular supply of in Pontefract. We have every supermarket known to humankind there, but the only consistent stockist has been 'Home Bargains', and so we buy it by the lorry load, and here it is.......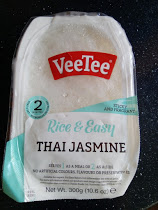 Veetee 'rice and easy' - sticky and fragrant. I like the way it says it has 'no artificial colours, flavours or preservatives' but fails to mention it has no nutrients either. A top-quality tagline by the same marketing team that brought you #newsteem
How to turn a few simple ingredients and a packet of sand into an authentic Thai meal in a couple of minutes?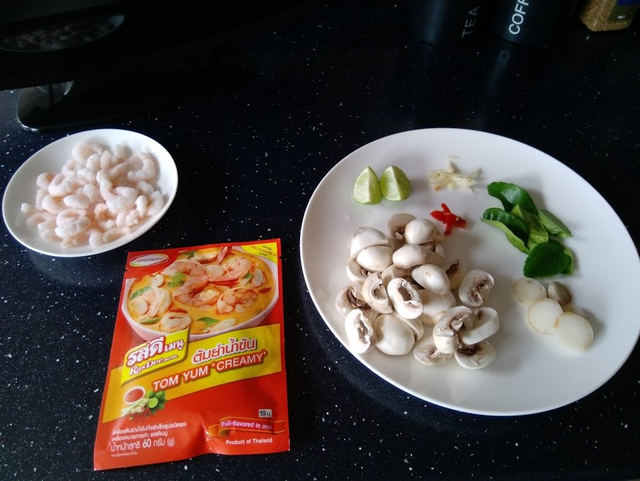 Ingredients
Packet of Rosdee Tom Yum Creamy (available from www.thaidirect.co.uk in the UK for about a quid)
Sliced button mushrooms
A sliced and crushed chilli (the powder has all the spice you need so don't go over the top)
Lemon Grass
Cilantro
Kaffir Lime leaves
Half a lime
Cup of shrimps or prawns (be lazy like me and drop the cheap frozen ones in at the end, or use freshly peeled at the start)
Don't worry about the cilantro and kaffir lime leaves. We brought those and are just to make it look better really. Again, the packet has all you need!!
Method
Just follow the simple steps on the packet but basically, boil the kettle and pour 1/2 litre into a pan on the cooker and when it's boiling, pour in the packet soup mix, throw in the mushrooms, lemon grass, chilli and prawns (if they are fresh and uncooked) and then reduce to a simmer for 5 to 10 minutes.
With two minutes to go, throw the rice in the microwave and if you're using frozen prawns, drop them in the soup along with the leaves.
The longer you simmer, the spicier and stronger the flavours will be, so keep trying it to suit. Pour it in a dish and serve with fresh lime.
That's it. Enjoy
In all seriousness, I can cook. I have always enjoyed taking a pile of fresh, high-quality ingredients and creating something that looks and tastes delicious but there is nothing wrong with using 'shortcuts' like packets and sauces. As I have said many times, food snobbery is one thing I hate in life as not everyone can afford to buy organic, locally grown or raised fresh produce but that doesn't stop them making delicious and nutritious home-cooked meals.
In this particular case, my very fussy Thai wife loved it, so it can't be bad! And for me, I got back to beans on toast and the final chase! That governess knows her shit!