Aphorisms are very motivational and inspirational. The next time when you feel out of sorts, and your mood is in need of a lift, go to any quotes site and spend some time going through the quotes. Your mood will change for the better immediately and you will feel a lot better after that. Such is the power of words, of aphorisms.
Here are some motivational and inspirational words to nudge you along life's journey during your moments of doubt. You may not need them now, but keep a record of the ones that resonate with you. You can refer to them when you feel a need for them.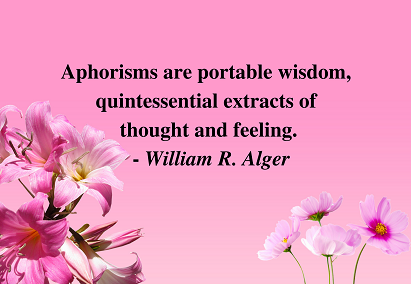 Image created on Canva
The man who can drive himself further once the effort gets painful is the man who will win. - Roger Bannister
Stop being afraid of what could go wrong and start being excited about what could go right. - Unknown
Your enthusiasm will be infectious, stimulating and attractive to others. They will love you for it. They will go for you and with you. - Norman Vincent Peale
A clay pot containing milk will be ranked higher than a golden pot containing poison. Not our outer glamour, but our inner virtues make us valuable. - Unknown
Not what we have, but what we enjoy, constitutes our abundance. - Epicurus
Hold faithfulness and sincerity as first principles. - Confucius
He who would greatly deserve must greatly dare. - Washington Irving
Let us not look back in anger, nor forward in fear, but around in awareness. - James Thurber
Never ignore a gut feeling, but never believe that it's enough. - Robert Heller
It is only through failure and through experiment that we learn and grow. - Isaac Stern
Persistence can change failure into extraordinary achievement. - Matt Biondi
Life and Time are the world's best teachers. Life teaches us the use of Time and Time teaches us the value of Life. - Unknown


Image created on Canva
All quotes taken from 👉 Herewith permission.
<<<<<<<<<<<<<<<<<<<<

~

>>>>>>>>>>>>>>>>>>>>
Thank you for stopping by. If you like the post, please give it a vote. Follow me if you find my posts interesting. Cheers!