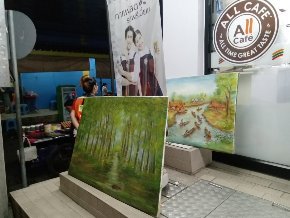 Been walking to the shop today instead of riding to get the step count up and there's an old guy been at this particular 7/11 for years.
He sits there all evening , painting his pictures and trying to sell them. It seems an odd location to attempt to sell art. It's not the most wealthiest area! He's a nice guy though and he always has time for a chat and a coffee. He seems happy with his lot and I guess that's what we all need to strive for.
In other news. .....
Still pissed off about those cheating north Londoners last night !
Goodnight. Take care, be safe and be happy . Just like my mate Pablo!



5321