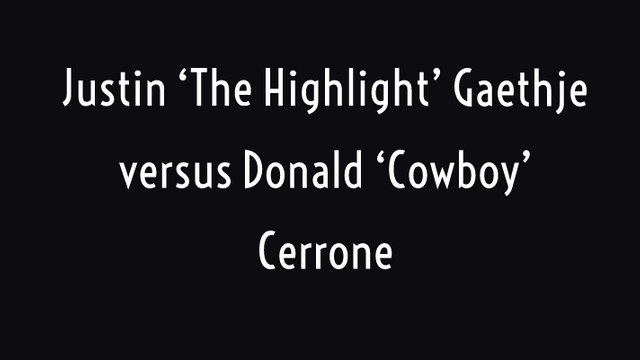 Justin Gaethje knocks out MMA legend Donald 'Cowboy' Cerrone in Vancouver, British Columbia, Canada tonight in the first round. This is Gaethje's third straight stoppage in the first round. The dude has looked like a powerhouse lately! He's straight up stopping dudes.
I have been really impressed by Justin Gaethje in his recent fights. He is slightly reinventing himself and becoming a fighter that is really picking his shots rather than purely looking for a brawl. Its a surprising and refreshing thing to see. Gaethje is no Homer Simpson people.

At this point I would like to see Gaethje fight somebody really big. His fight style is a surefire blockbuster event. Despite the fact that he doesn't brawl anymore shouldn't suggest that it's a boring change, he still bangs and throws heat. But its more of a very controlled chaos. Plus, since seeing his past fights, I would like to assume Gaethje has got the cardio to continue his newfound controlled chaos style into deeper rounds. But I do admit that its a bit of an assumption.
I believe that Gaethje should fight Conor McGregor. That fight could seriously be legendary. I can picture both of those guys throwing heat and its a beautiful thought.
If anybody deserves stardom and a bit more of mainstream spotlight, its Justin Gaethje. He puts it on the line every fight. But Conor doesn't seem to be coming back anytime soon.
Who knows but Gaethje is in line for a championship fight soon in my opinion. The dude is a savage!
The lightweight division of the UFC continues to be interesting as ever.

What did you think of the fight tonight? Steem and Sport on.