On May 29, 2019, director McGinty Nichol or better knew as McGbegan released his film titled "Rim of the World". This is an adventure film with comedy elements in it. The screenplay is written by the reliable writer Zack Stentz. As a director, McG has been working on this film since May 2018 in Los Angele, California. Not only as a director, but McG also acts as a film producer with Mary Viola. This film was produced by Netflix and Wonderland Sound and Vision.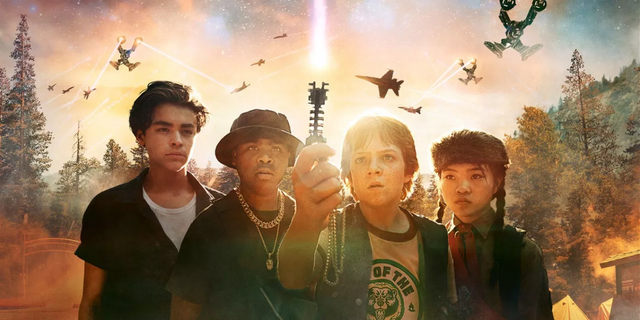 Image source
This film tells the story of the adventures of four teenagers trapped in summer camps. At that moment, the Alien is attacking the earth. Campers from different backgrounds unite to unite forces and conquer Alien attacks, to save the world.
Alex, played by Jack Gore, is one of four teenagers who camp. He has an interest in the world of Science and NASA. In the camp, Alex met a child who often showed off his wealth named Dariush. The Dariush character in this film is played by Benjamin Flores Jr. Not only met Dariush, but Alex also met with ZhenZhen, a quiet Chinese girl. ZhenZhen is played by Miya Cech.
One time Alex got a special key left behind given by Major Collins, played by Lynn Collines. The key contains the only way to defeat the attack from outside. Until finally Alex, ZhenZhen, and Dariush met with Gabriel, played by Alessio Scaalzotto in the battlefield who was avoiding aliens. This is a Hollywood movie that will air 99 minutes in duration. Not only the players above, but Rim of the World is also played by several other players such as Raja Bach, Dean Jagger, Michael Beach, Tony Cavalero, Andrea Susan Bush, and many more.
Jack Gore will be the main character in this film. Jack Gore is a young actor born on May 19, 2005, who has been involved in various films, including Ideal Home (2018), Wonder Wheel (2017), We Are What We Are (2013). Not only Jack Gore, Benjamin Flores Jr., who was an actor born on July 24, 2002, was involved as the main actor who will act with Jack Gore. Did you know, not only is good at acting Benjamin Flores Jr. is also a rapper you know. Great right?
Well, for those of you who love Hollywood action genre teen adventure action in conquering Aliens, the Rim of the World can be a list of films that are worth watching. Movies can be watched with family on weekends with fun, tense, but laughter effects due to some silly or funny actions.
Regards,
@khanza.aulia
---

info@esteem.app
🌐eSteem.app | 👨‍💻GitHub | 📺YouTube
✍🏻 Telegram | 💬Discord