Captain's Log
Hello settlers, reviewing the market I have realized that some blueprints for laser type ships are sold at a really cheap price, I do not know if really the explorations give many of these blueprints but I have not had that luck, so I have taken advantage of equipping all my planets with these blueprints because these small ships are very good to defend our planets and are very cheap in resources.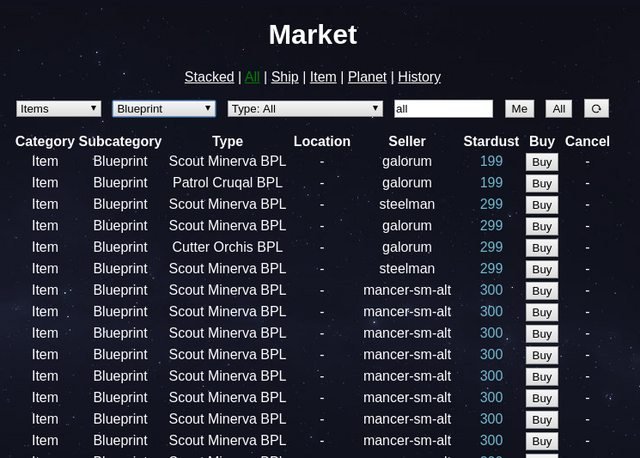 Let's speculate a little
Taking into consideration the Stardust pre-sale, if you wanted to obtain 50000 Stardust you would have to pay 100 Steem for that, this means that 500 stardust is equivalent to 1 Steem.
Now, in the shop we have the bullets blueprints and the cheapest is the Scout Athene blueprint that costs 0.99 Steem. In the market we can find its counterpart the Scout Minerva blueprint at only 99 stardust, equivalent to only 0.2 Steem.
In the capture above you can see for sale a blueprint of Patrol Cruqal in just 199 Stardust equivalent to 0.4 Steem, while its counterpart in the store, the Patrol Hermes, has a cost 5 times higher.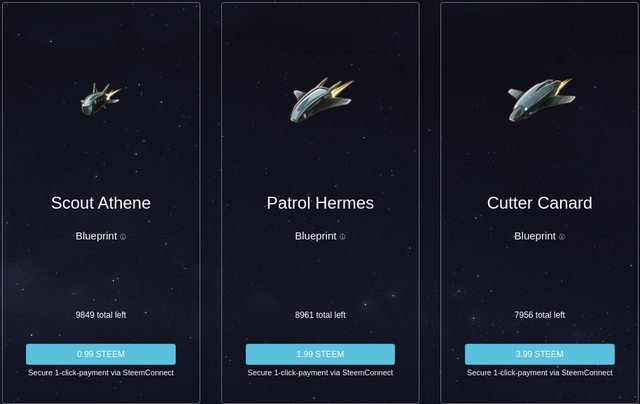 Speculate, speculate
Of course, not everything is good prices in the market. In the case of these low level ships we see that it can be an excellent investment to equip with several blueprints, but there are some items that are perhaps a little more coveted and its price is higher, such is the case of the Corvette Natjar, a blueprint that I need in my collection but I get something expensive, you can get in the market for about 9000 Stardust / 18 Steem, in my case I think I would first buy the blueprints of the corvette Petunia for the rest of my planets as they have a cost of 5 Steem.

I did not inquire further for the rest of ships as the level of my production is somewhat low even and I can barely stand with the manufacture of these first 4 models of battle ships, but I know that looking for a little you can find some good bargains in this market, so do not stop taking a look at it.

All the images used in this post belong to the game NextColony, a spatial simulation game integrated to the STEEM Blockchain.
Thank you for reading and don't hesitate to leave your comment.