Captain's Log
Hello earthlings, a few days ago I acquired the blueprint of the Scout Athene and made a post where I explained how with a minimum investment of less than 1 steem we could have ships with bullet damage in our fleet.
The prices of the blueprints of the Patrol Hermes and the Cutter Cancard also seemed very cheap to me and I had considered buying them, but in the end I decided to buy the blueprint of the Corvette Petunia, a ship that I had not taken into consideration.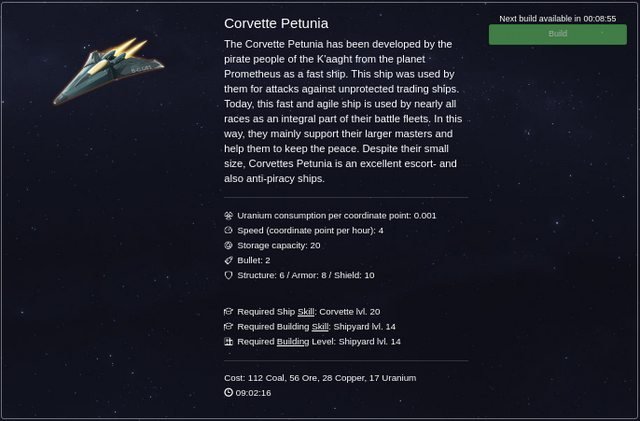 Why the corvette petunia?
I was thinking about the yamato rewards system, maybe I won't have a chance to get some punch, not only because of my low level but also because of an important fact and that is that
I don't have any legendary planet nearby my planets!
So if I wanted to try to attack the yamato modules I should do it with ships that were very fast, and I think the corvettes are the only ships in
Next
Colony that comply with that property.

Being a little more realistic
I missed a little hype and stepped on the ground, I think instead of participating in the "yamato wars" I should concentrate on growing little in the background while the rest of the universe falls to pieces, so I will devote myself to continue building my mines and my fleet, I will continue exploring space in search of new planets, and when the time comes we'll see .

For the moment I have a meta-skill level of 339, I think it should be something sensible to first get into the top 100 and then put the view on the yamato modules.

About why I haven't continued to write "The Exploration."
I apologize for not continuing to write "The Exploration" lately I have been a little sick and very busy. It is difficult to deal with all the problems of daily life in my country and this has had me very stressed almost no sleep because of insomnia and my mind is blocked when creating stories, fortunately, I have been able to continue playing Steemmonsters and keep afloat selling some cards and DECS.
But tonight I will relax a little and try to concentrate on writing a little more about the adventure that is somehow in my head.
If you do not know what I'm talking about and you want to take a look I will leave you the list of the various episodes written so far.
Chapter I - In the list
Chapter I.2 - A look back
Chapter I.3 - My parents
Chapter I.4 - Miles
Chapter I.5 - Preparation
Chapter I.6 - Leaving everything behind
Chapter I.7 - Hibernation
Chapter II - Reborn
Chapter II.2 - On the road to a new planet
Chapter II.3 - Electromagnetism

All the images used in this post belong to the game NextColony, a spatial simulation game integrated to the STEEM Blockchain.
Thank you for reading and don't hesitate to leave your comment.