Captain's Log
Hello earthlings, I continue to take small giant steps in this exciting universe of
Next
Colony. Now, I have already maximized the investigations of the ships scout, patrol and cutter, next to those that I already had for a long time to the maximum the transporters, explorers, and corvettes. what gives me the opportunity to make a big and multifunctional fleet.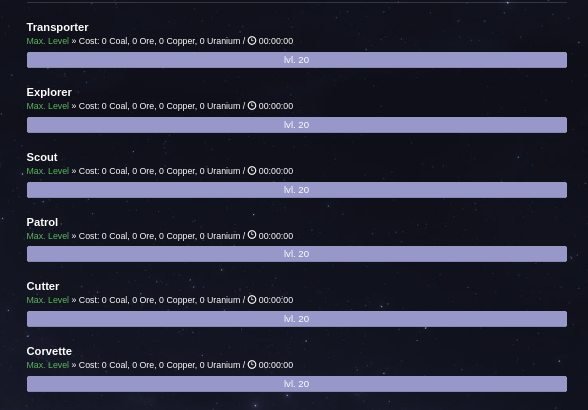 Thanks to these investigations I have acquired a meta-skill lvl of 337 and increasing, I do not intend to stop until it appears in the top 100 and after there, continue and continue to improve.


Also, within three days I will be able to send more explorations to outer space, to raise the investigation of Mission Control, to be able to carry out multiple missions simultaneously will give me more freedom to exchange resources between my planets.
This will be of great help to me since lately I have had some problems with the amounts of resources on the planets, sometimes what I have leftover in one of them I lack in the other and vice versa. It is imperative to exchange resources among them.



All the images used in this post belong to the game NextColony, a spatial simulation game integrated to the STEEM Blockchain.
Thank you for reading and don't hesitate to leave your comment.