Captain's Log
Hello settlers, finally I have managed to raise to the maximum level the ability to manufacture the uranium mine of level 20, it is an important achievement because this resource is always scarce in my planets.
Uranium is the most scarce resource in the universe and is indispensable in the manufacture of buildings and ships, also to move our fleet we need considerable quantities of this resource, if there is a mine that we urgently need to maximize is the uranium mine, no doubt.


Making my first top level mine
In just 3 days the first level 20 mine of my modest galactic empire will be ready, and progressively replicas of this industry wonder will be built on my other planets.
Despite all this I am aware that the supply of uranium will remain scarce, so I also intend to go up the uranium production increase skill and continue exploring the galaxy in search of a good planet producing uranium.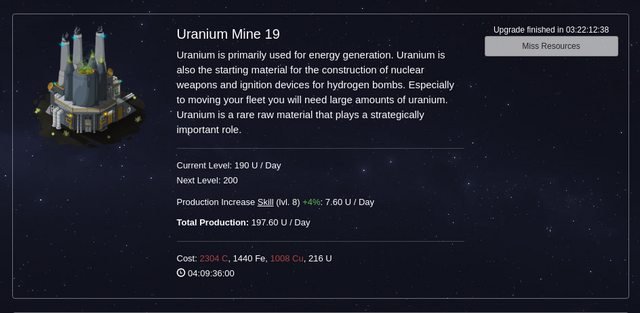 Meta-Skill level 391 and increasing
Every day I'm learning new skills while I'm exploring space and building ships for defense, hoping someday I can enter the ranking with a good meta-skill level
My priority is to finish raising the mines skills and buildings to level 20 and then focus on ship improvements so my fleet can do and receive more damage.


All the images used in this post belong to the game NextColony, a spatial simulation game integrated to the STEEM Blockchain.
Thank you for reading and don't hesitate to leave your comment.