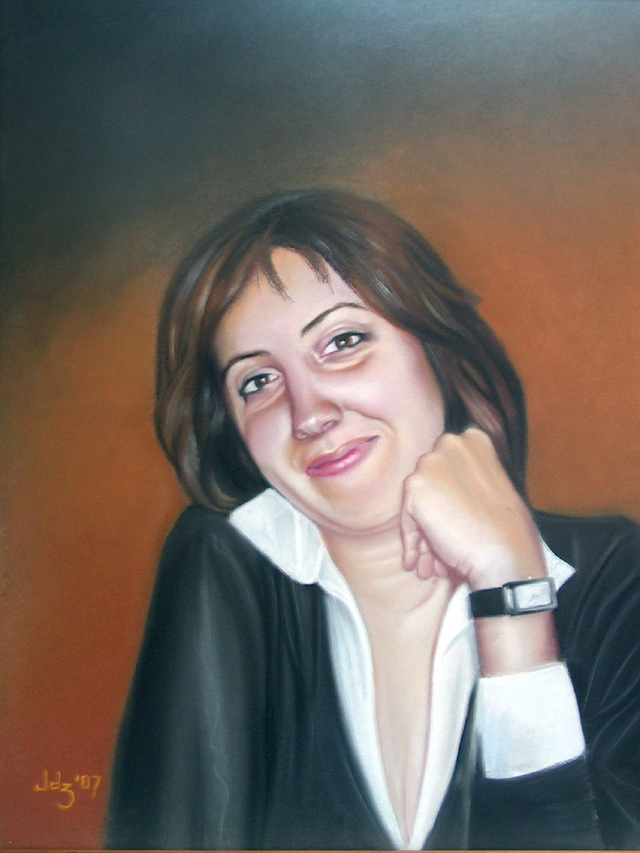 Hello, friends.
Since I was a child, drawing was a natural skill of my hands. I loved to draw comics, landscapes and objects, but since then, I think the most difficult stuff to draw is a portrait that is faithful and realistic.
When I was studying Illustration in the Art School of Tenerife, one of the projects we had to do was a pastel portrait. I knew my fire test had arrived. In front of me I had the opportunity to demonstrate everything I had learned by myself in my childhood. The result after a week of work is this.
I am a little distressed to have lost the photos with good resolution that I made of the portrait and that I lost with the breakage of one of my hard drives. I could only rescue this poor photograph of 1660 px in height.
I hope you can appreciate this artistic work that I painted with such dedication.
Hugs!
---
Hola amigos.
Desde que era niño, dibujar era una habilidad natural de mis manos. Me encantaba dibujar cómics, paisajes y objetos, pero desde entonces, creo que lo más difícil de dibujar es un retrato que sea fiel y realista.
Cuando estaba estudiando Ilustración en la Escuela de Arte de Tenerife, uno de los proyectos que tuvimos que hacer fue un retrato en colores pastel. Sabía que mi prueba de fuego había llegado. Frente a mí, tuve la oportunidad de demostrar todo lo que había aprendido por mi cuenta en mi infancia. El resultado después de una semana de trabajo es este.
Estoy un poco afligido por haber perdido las fotos con buena resolución que hice del retrato y que perdí con la rotura de uno de mis discos duros. Solo pude rescatar esta pobre fotografía de 1660 px de altura.
Espero que puedan apreciar este trabajo artístico que pinté con tanta dedicación.
¡Un abrazo!
Pastel Color Portrait.
Canson Paper 160 gr/m2.
65x50 cm.
Santa Cruz de Tenerife. 2007.
JavierSebastian.es
---

www.javiersebastian.es
Copyright: Javier Sebastian, Canary Islands. All my images are original.
If you want to buy any of my visuals, please drop me a message, I'm on Discord: JavierSebastian#5816
---