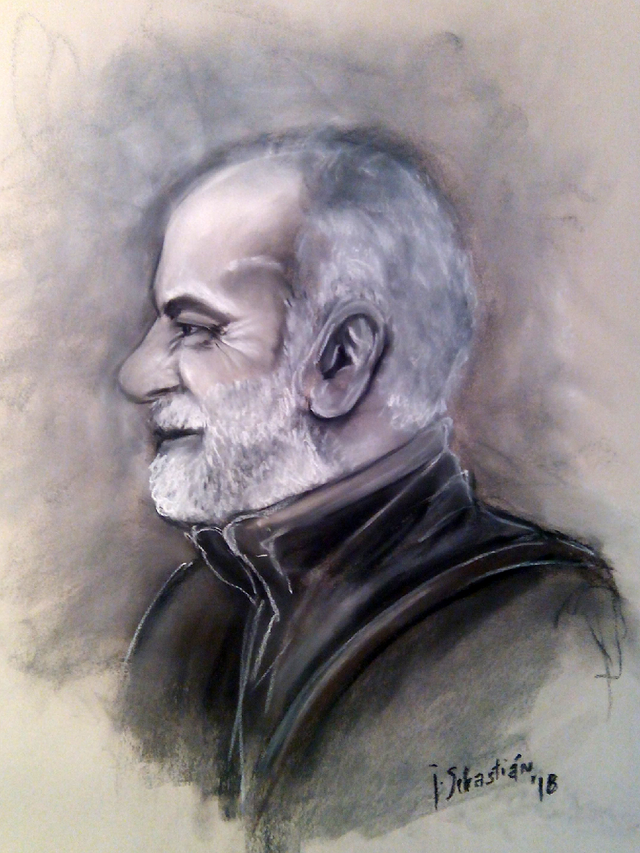 Hi friends,
I would like to share this portrait I made last year. Maybe you do not believe me but I could finish it in an hour and a half.
I had to do it in a short period of time, the photos I had within my reach were not the most appropriate and I did not think I would have time to paint a guitar. Still, I think my client could give a good portrait. What do you think?
Hugs!
---
Hola amigos,
Me gustaría compartir este retrato que hice el año pasado. Tal vez no me creas pero pude terminarlo en una hora y media.
Él es Juan Carlos Pérez Brito, en mi opinión, el mejor guitarrista de Canarias. Tuve que hacerlo en un corto período de tiempo, las fotos que tenía a mi alcance no eran las más adecuadas y no creí que me diera tiempo a hacer pintar una guitarra. Aún así creo que mi cliente pudo regalar un buen retrato. ¿Qué opinas?
¡Un abrazo!
---


www.javiersebastian.es


Copyright: Javier Sebastian, Canary Islands. All my images are original.
If you want to buy any of my visuals, please drop me a message, I'm on Discord: JavierSebastian#5816

---
Facebook | Twitter | Instagram | Youtube | Presearch | Brave | Invite me a Coffee | Patreon
---
I use these services to earn token while surfing the web. These are my referral links.


I use this service to BUY CRYPTO with my CREDIT CARD. This is my referral link.