Can you drink water while eating ?
When you eat, can you drink water or can not you drink water, there are two different statements!
According to the news reports on the Internet and the explanations of doctors and experts, I think the following arguments are credible.
Food and water stay time:
The average food will stay for about 4 hours, and the water will only stay in the stomach for about 10 to 15 minutes.
Compared to the digestion of food, the residence time of water is extremely short, so it will not affect the digestion speed of food.
The study also found that no matter whether it is water or tea or even alcohol, there is no direct or negative impact on digestion.
But scientists recommend not drinking too hot water, the optimal temperature is 65 degrees Celsius.
I think should not drinking water at eating , is mainly based on drinking water that will causes the food in the stomach to swell and exert pressure on the stomach wall.
Therefore, drinking plenty of water during eating tends to increase satiety and reduce appetite. This is not healthy.
Practice, it is easy to cause gastroesophageal reflux!
When to drink water:
It is best half an hour after a meal.
would not to affect the function of the stomach .
but , do not drink plenty of water to avoid acid reflux / gastritis / stomach ulcers / other symptoms.
My personal habit is that when I have a meal, I have drink a little water, about 3 cups waters.
I took a photo,
This is taken from the calendar.
In order to get between the background and the cup,
Has a three-dimensional effect,
So I have to bend the calendar,
This tip is for everyone's reference.
And in order to let the cow's mouth feel like drinking water,
I put the light in my mouth,
The light just hit the place where he was drooling.
it looks Is a bit interesting !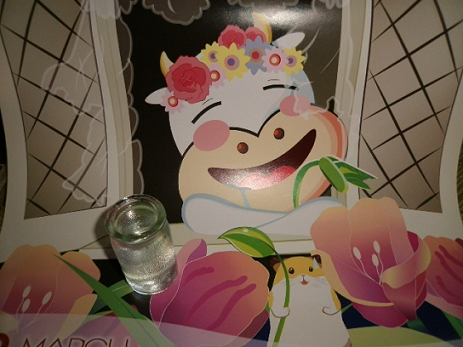 吃饭时,能不能喝水?
吃饭时,能不能喝水,有着两派完全不同的说法!
根据网路上的新闻报导,和医生专家们的解说,我认为下面的这些论点是可信的。
食物和水的停留时间:
一般的食物,大概会停留4个小时,而水只会留在胃里面约10~15分钟。
相对于食物的消化而言,水的停留时间极短,所以不会去影响到食物的消化速度。
研究也发现,无论喝的是水还是茶甚至是酒,对于消化都没有直接和负面的影响。
但科学家建议不可饮用太热的水,最佳温度是摄氏65度。
认为吃饭时不能喝水,主要是基于,喝水会使胃内的食物膨胀,对胃壁造成压力,所以在吃饭时饮用大量的水,往往会增加饱足感,从而减少食欲,这不是健康的做法,很容易造成胃食道逆流!
喝水的时机:
最好在饭后半小时之后,才不会影响到胃的功能。
且不可大量饮水,以免引起反酸/胃炎/胃溃疡/等症状。
我个人的习惯是,吃饭时,有喝少许的水,大约3杯左右。
我拍了一張照片,
這是拍攝自月曆.
為了讓背景和水杯之間,
有著立體的效果,
所以我有彎曲一下月曆,
此技巧提供大家做為參考.
而為了讓牛嘴有喝著水的感覺,
我把燈光打在嘴的地方,
燈光剛好打在他流口水的地方,
看起來,
是不是有點意思.