It was a great week. Thanks to salaries from the official place of work and dividends from a small investment, I was able to save about $ 135. Until September 8th, I will continue to study and analyze the @splinterlands rental market, after I will begin a large purge of my collection, excluding less relevant and irrelevant rental cards.
Это была отличная неделя. Благодаря заработной плате с официального места работы и девидендов от небольшой инвестиции я смог отложить около 135 $. До 8-го сентября я продолжу изучать и анализировать рынок аренды @splinterlands, после чего начну большую чистку своей колекции исключая малоактуальные и неактуальные карты для аренды.
My progress as of 01/09/19
Мой прогресс состоянием на 01/09/19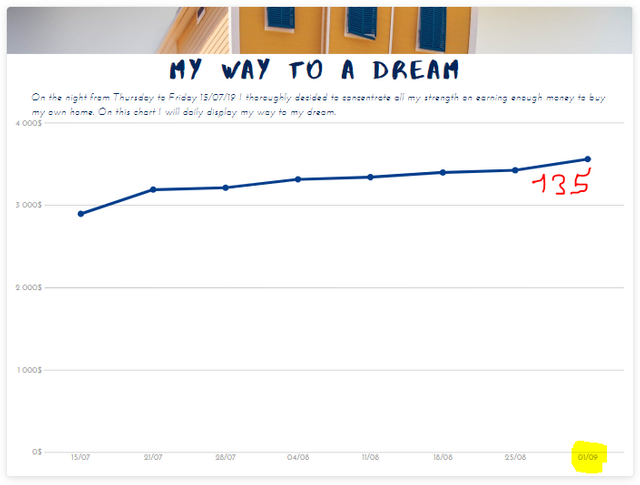 Link in diagram
From 15.07.19, I will publish a regular linear graph, which should help me better visualize my process of achieving my goal.
С 15.07.19 я публикую обычный линейны график, который должен помочь мне лучше визуализировать свой процесс достижения поставленной цели.
Many thanks to everyone who supports me with their votes, following and commenting. Your every voice brings me closer to my goal. Your attention is a kind of battery that feeds my strength. I appreciate any support on the STEEM blockchain, I will also be grateful for my twitter subscription - Cranium and youtube - Честный канал
Огромное спасибо всем, кто поддерживает меня своими голосами, следованием и комментарием. Каждый Ваш голос приближает меня к моей цели. Ваше внимание своеобразный аккумулятор, который подпитывает мои силы. Я ценю любую поддержку на блокчейне STEEM, также буду благодарный за подписку на мой twitter - Cranium и youtube - Честный канал
Appreciate life. Good luck to you.
Цените жизнь. Удачи Вам и добра.
Я в discord - cranium#9430
Я в youtube - Честный канал
Я в facebook - Cranium33
Я в twitter - Cranium
Я в instagram - alexeyborsth
Я в steemmonsters - cranium