For 5 days I did not publish articles from this section, as I decided to translate the daily report into a weekly one. For a month and a half, the lower chart scale became so clogged that it became difficult to track progress. It is even more pleasant to look at the weekly progress, it is about 7 times more than daily.
5 дней я не публиковал статьи с этой рубрики, так как решил ежедневный отчет перевести в еженедельный. За полтора месяца нижняя шкала графика так засорилась, что уже стало сложно отслеживать прогресс. Еще приятнее смотреть на недельный прогрес, как не как а он около 7 раз больше ежедневного.
My progress as of 28/08/19
Мой прогресс состоянием на 28/08/19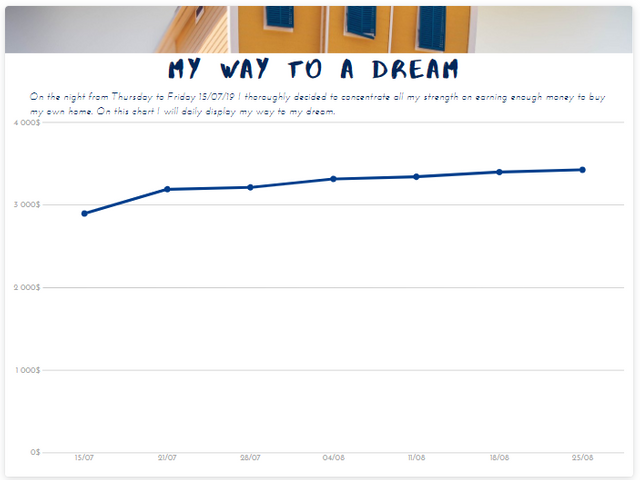 Link in diagram
From 15.07.19, I will publish a regular linear graph, which should help me better visualize my process of achieving my goal.
С 15.07.19 я публикую обычный линейны график, который должен помочь мне лучше визуализировать свой процесс достижения поставленной цели.
Many thanks to everyone who supports me with their votes, following and commenting. Your every voice brings me closer to my goal. Your attention is a kind of battery that feeds my strength. I appreciate any support on the STEEM blockchain, I will also be grateful for my twitter subscription - Cranium and youtube - Cranium
Огромное спасибо всем, кто поддерживает меня своими голосами, следованием и комментарием. Каждый Ваш голос приближает меня к моей цели. Ваше внимание своеобразный аккумулятор, который подпитывает мои силы. Я ценю любую поддержку на блокчейне STEEM, также буду благодарный за подписку на мой twitter - Cranium и youtube - Cranium
Appreciate life. Good luck to you.
Цените жизнь. Удачи Вам и добра.
Я в discord - cranium#9430
Я в youtube - Cranium
Я в facebook - Cranium33
Я в twitter - Andruto2
Я в instagram - alexeyborsth
Я в steemmonsters - cranium